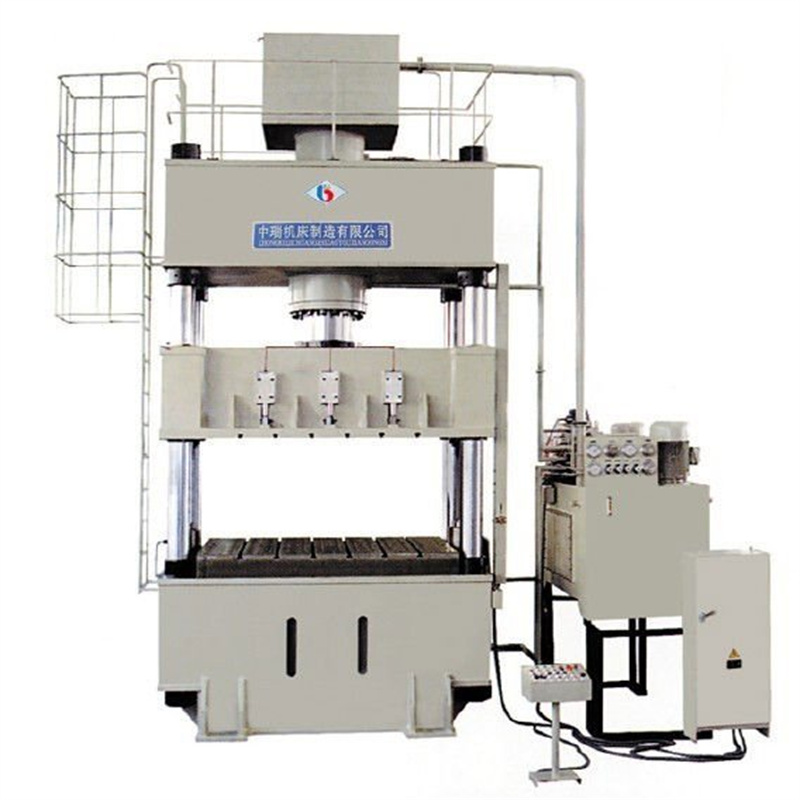 The main performance characteristics:
Economical and Practical, Hydraulic control adopts to insert set valve integrated system, decrease let out Point.Movement reliability, durable and long life span, Itis constant pressure to realize with calm in the first place and calm procedure two develop technology, have to insure press the function of delay time, The route of working pressure may be regulated in assigned scope, adopt buttons for centralized control, Can realization manual, Semi-automatic, automatic 3 operate form.
Application field : This series of hydraulic presses is suitable for the pressing process of plastic materials, such as stamping, bending, flanging and thin stretching, etc. It can also be used for the correction, press-fit, plastic products and powder products.
Product main technical specifications:
Specification
Unit
100T
100T
Ejecting force
KN
20
20
Max. pressure of liquid
MPa
25
25
Stroke of slider
mm
400
500
Max. opening height
mm
700
800
Working table size
mm*mm
800x800
800x800
Ejecting stroke
mm
200
200
Speed of slider
Idle speed
mm/s
54
80
Working speed
mm/s
16-24
16-24
Return speed
mm/s
46
100
Motor power
KW
7.5
7.5
Net weight(KG)
T
2..5
2.5
Detailed Images
Hydraulic System:
The hydraulic system device is arranged on the right side of the press, with cartridge integrated system, flexible action, reliable work, good sealing performance. The hydraulic pump comprises an oil tank, a high-pressure pump, motor, cartridge valves and other components.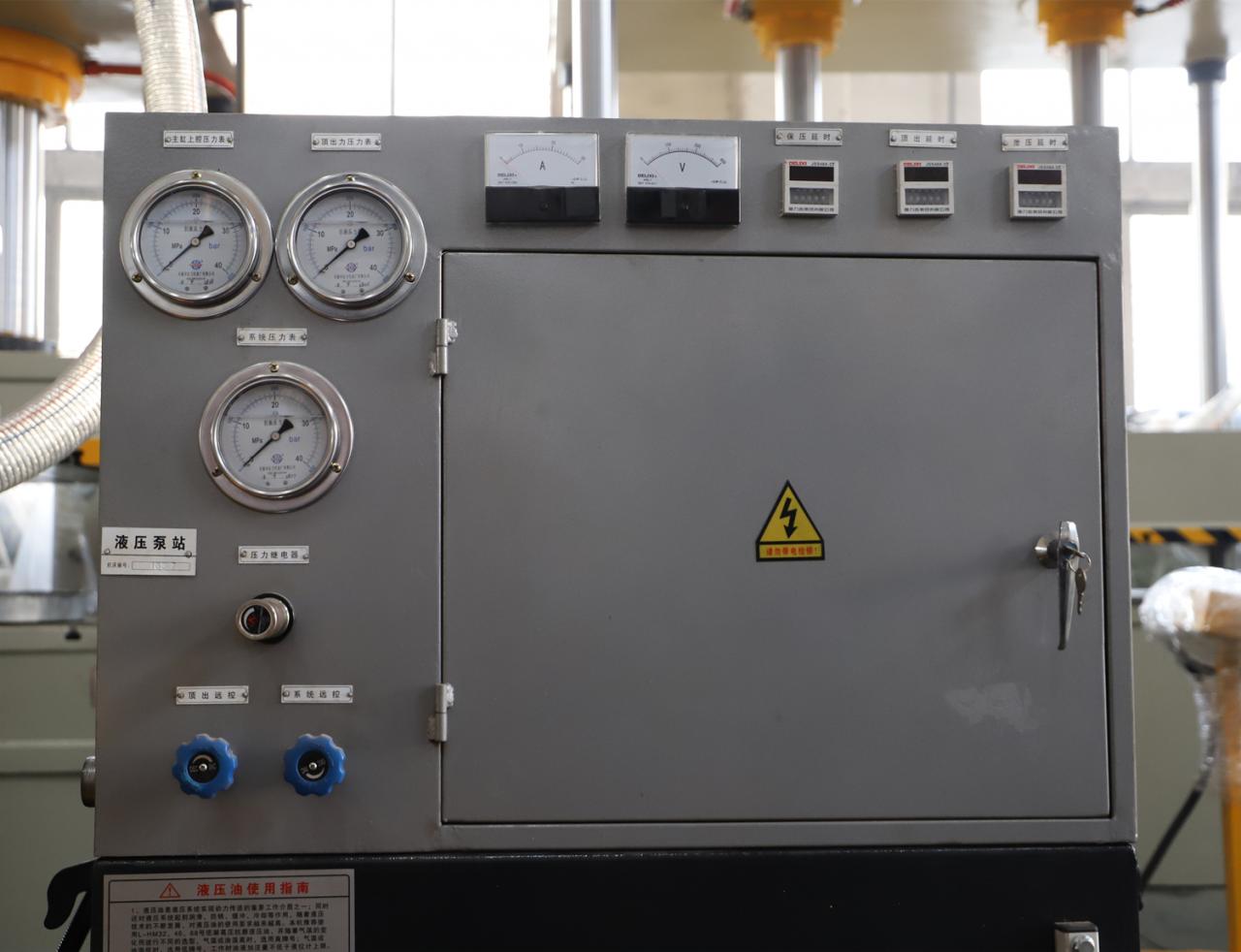 HYDRAULIC STATION
Hydraulic integrated system adopts independent control unit. Convenient maintenance.
WORKBENCH
The making way of workbench is finish mill hind burnish first.It welded by full steel plate CO2. the body is tempered and vibrated to ensture that the fuselage never deforms.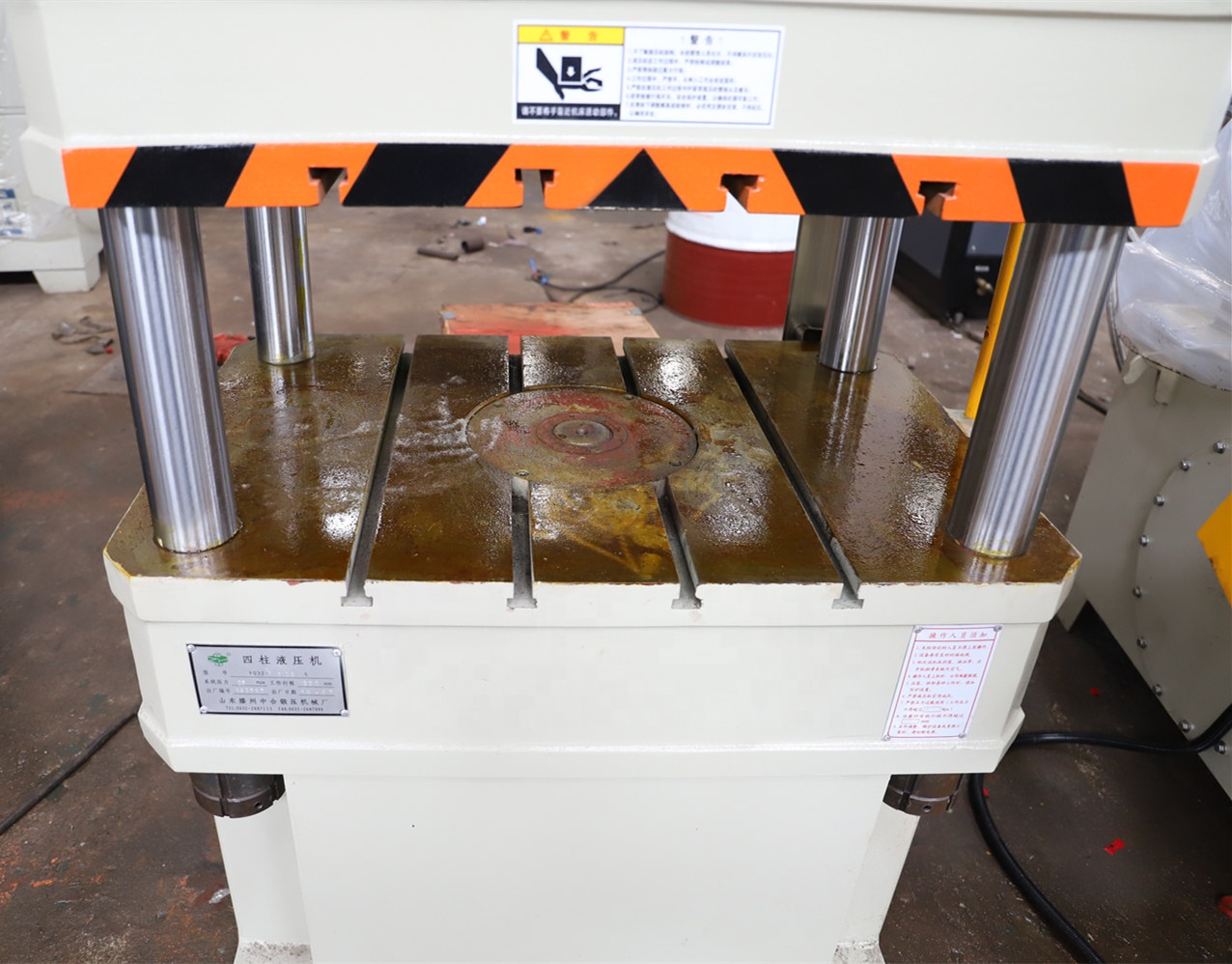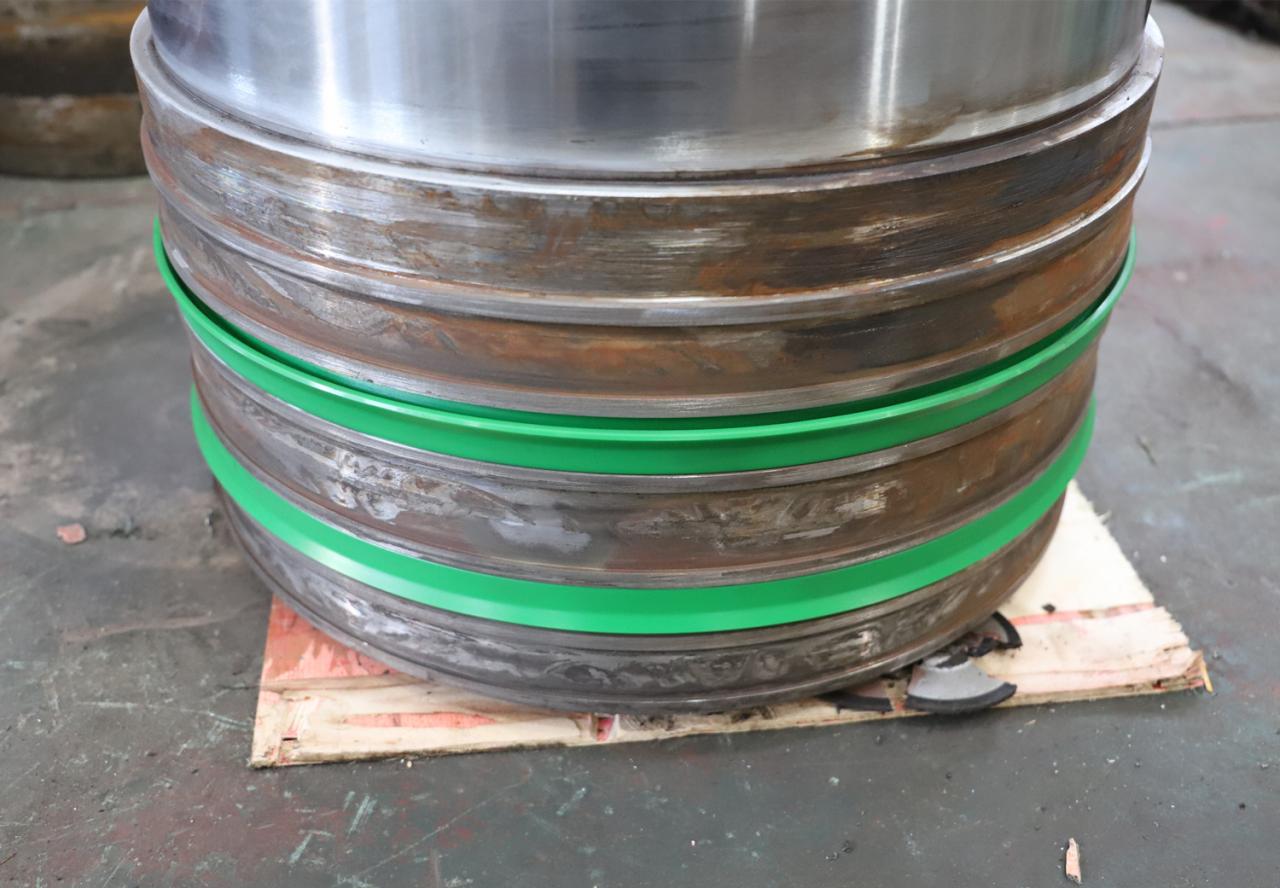 SEAL GROOVE
After rough machining on an ordinary lathe and finishing by a CNC lathe, the R angle is processed more smoothly, the quality is completely uniform, and the seal is tight and difficult to leak.
PISTON ROD
Medium-frequency hardening of 45 steel, deepening the material 2-3 mm, making the surface hardness of the piston rod to 55 , effective solution to seal ring injury,not easy to scratch.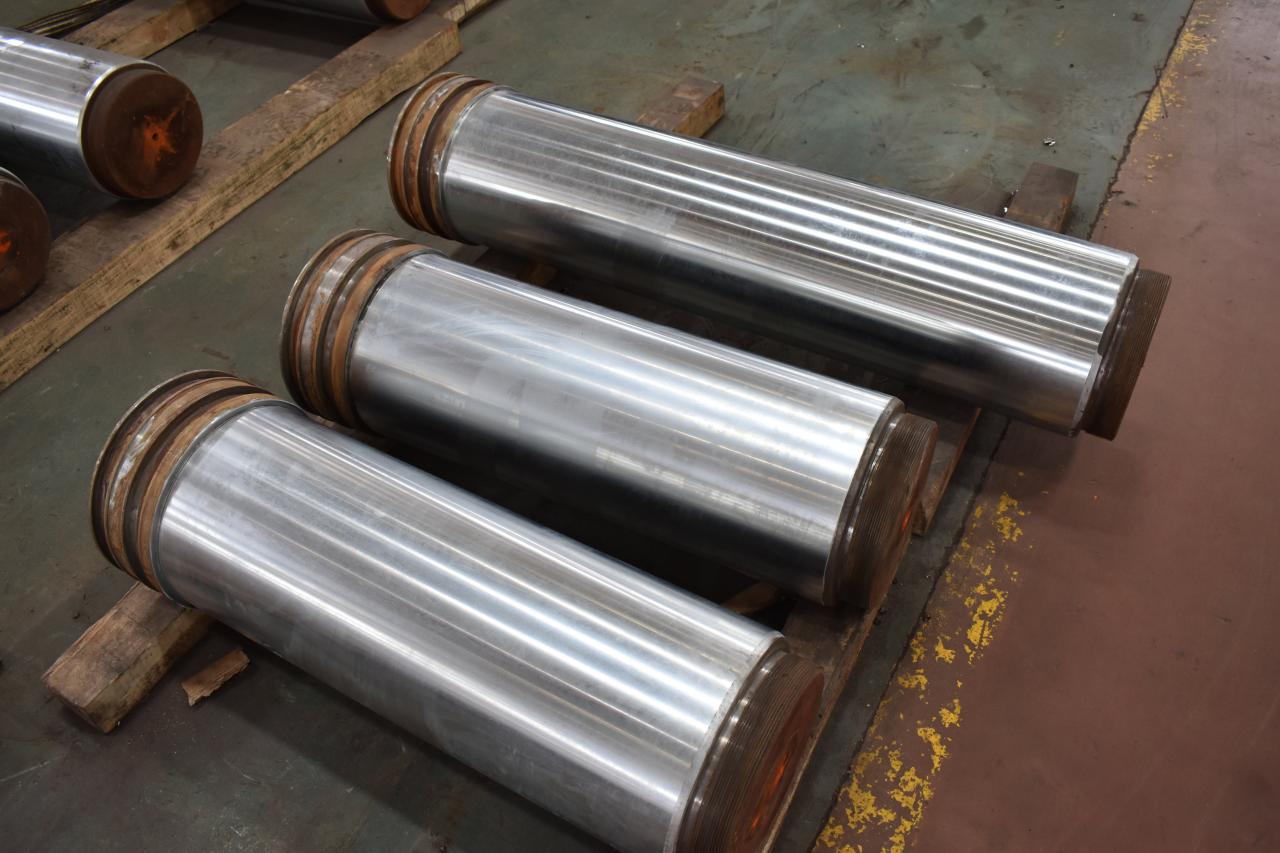 PREFILL VALVE
Adopt the new YCF1 series filling valve, advantages: 1 .improve the pressure relief response time and reduce noise. 2 .Low opening pressure, good self-priming performance and reliable reset. 4Compact structure, easy to install and use.3 .flow channel design is smooth, small flow resistance.
CARTRIDGE VALVE SYSTEY
The cartridge valve is inteqrated into the system to reduce leakagepoints, reliable operation and long service life.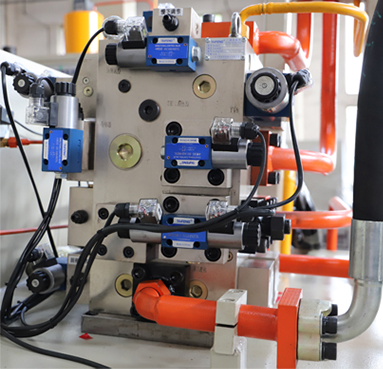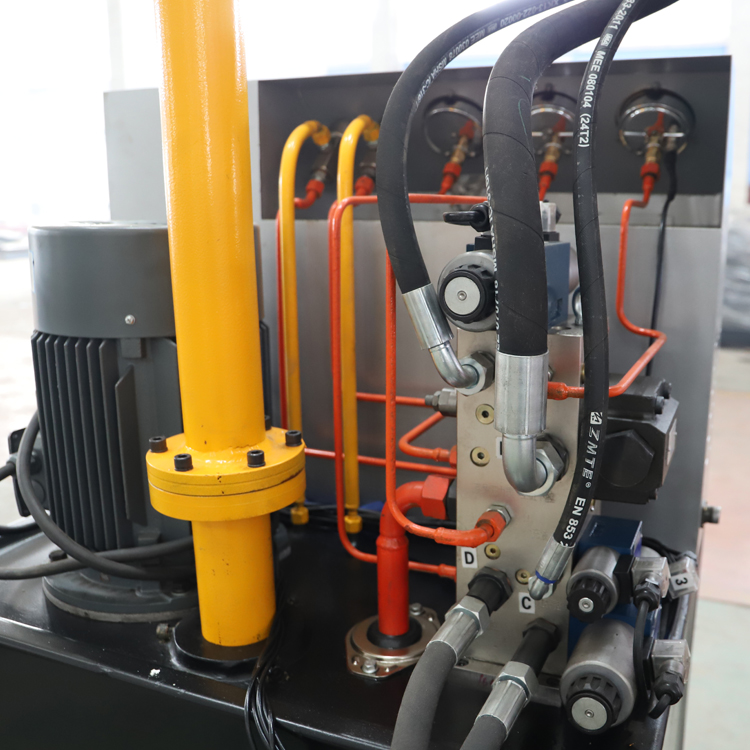 THE PRESSURE MEASURING LINE
The pressure line is connected by hard pipe, which has the advantages of  1. Neat and beautiful; 2. Reduce the impact on the pipeline when the oil is pumped out, and it is more difficult to leak.
Combination gasket 
All oil joints are sealed with a combination of gaskets, internally with rubber, externally with red copper customized by the manufacturer. Compared with the iron used by other manufacturers, the advantages are: 1.The ductility of red copper is strong, making the bond tight; 2.In the process of high-pressure washing, red copper can effectively protect the rubber skin from breakage.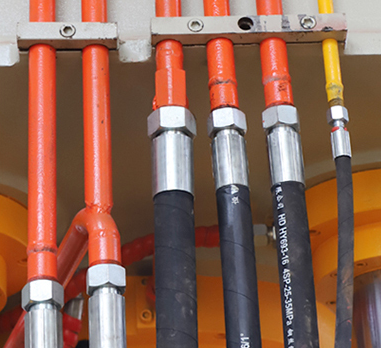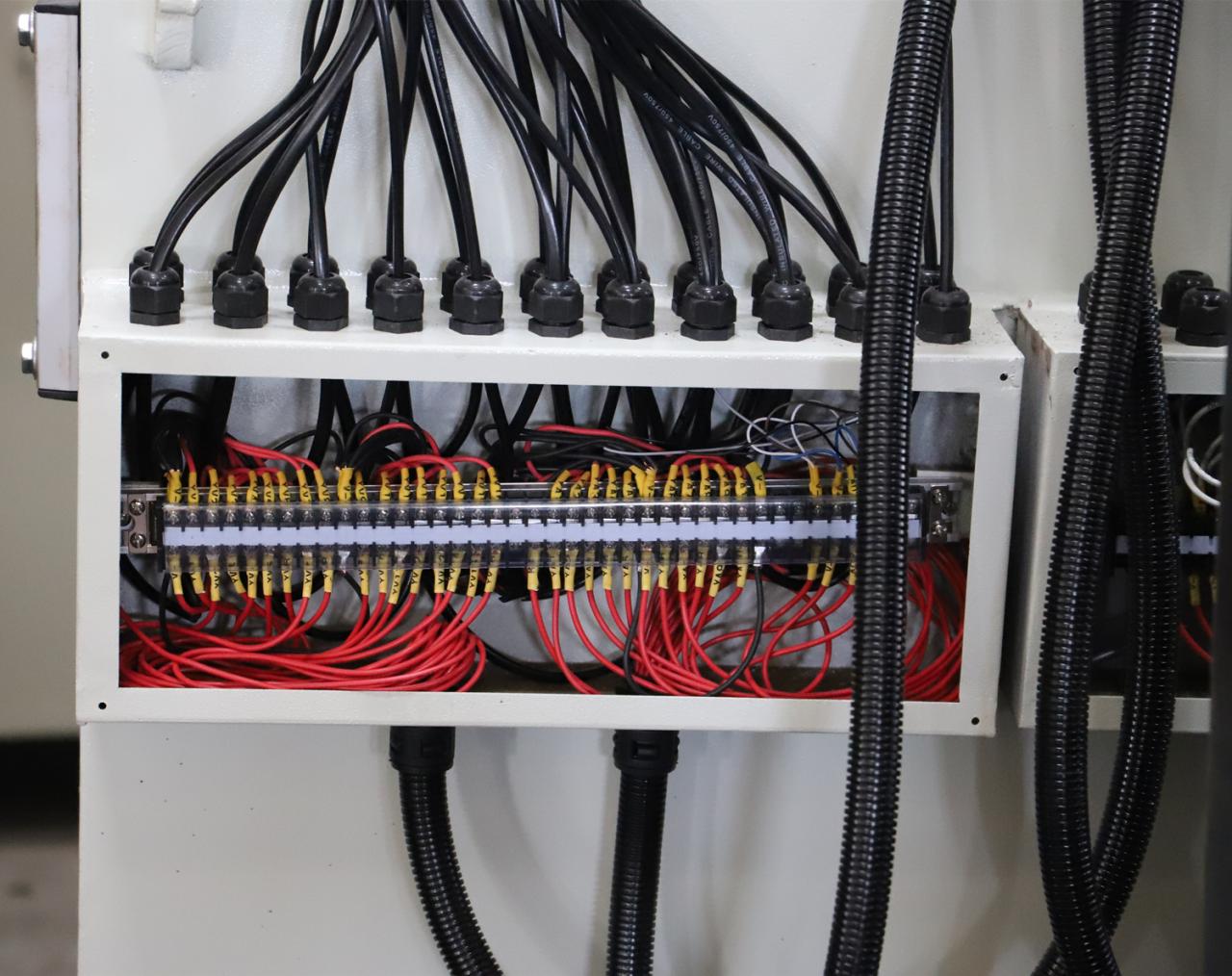 JUNCTION BOX
All the lines of the hydraulic system are concentrated in a junction box, which is introduced into the power cabinet or operation console through the aviation plug as a main line.
PLC PROGRAMMABKE CONTROL SYSTEM OPTIONAL
Compared with traditional relays, 1.The PLC has the characteristics of strong control reliability, simple wiring, easy programming, and convenient use. 2. The PLC has the small size, light weight, low power consumption, very power saving.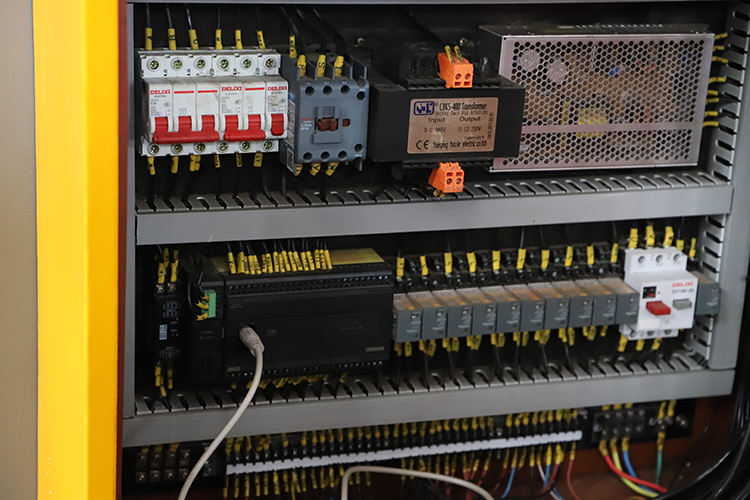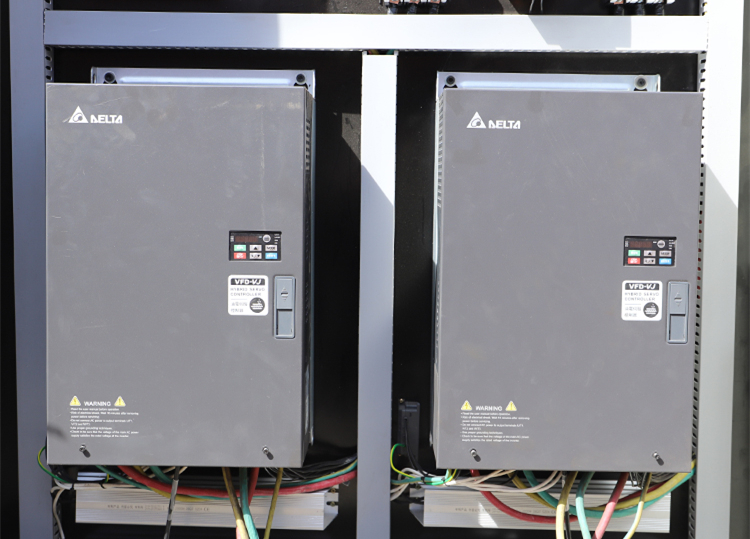 SERVO SYSTEM OPTIONAL
That is the hybrid drive technology, the hydraulic actuator has stable transmission and strong anti-interference ability, especially at low speed, it can improve efficiency, save a lot of electricity costs, and obtain higher product quality.
HYDRAULIC STATION LAYOUT
Compared with the plug-in oil pump,We use the external and horizontal position of the oil pump to reduce the heat generated when the oil is pumped out. The oil rises slowly, and the oil temperature is always controlled within a controllable range of about 55 degrees Celsius, so that the hydraulic components can work at a tolerable temperature and prolong the service life of the machine.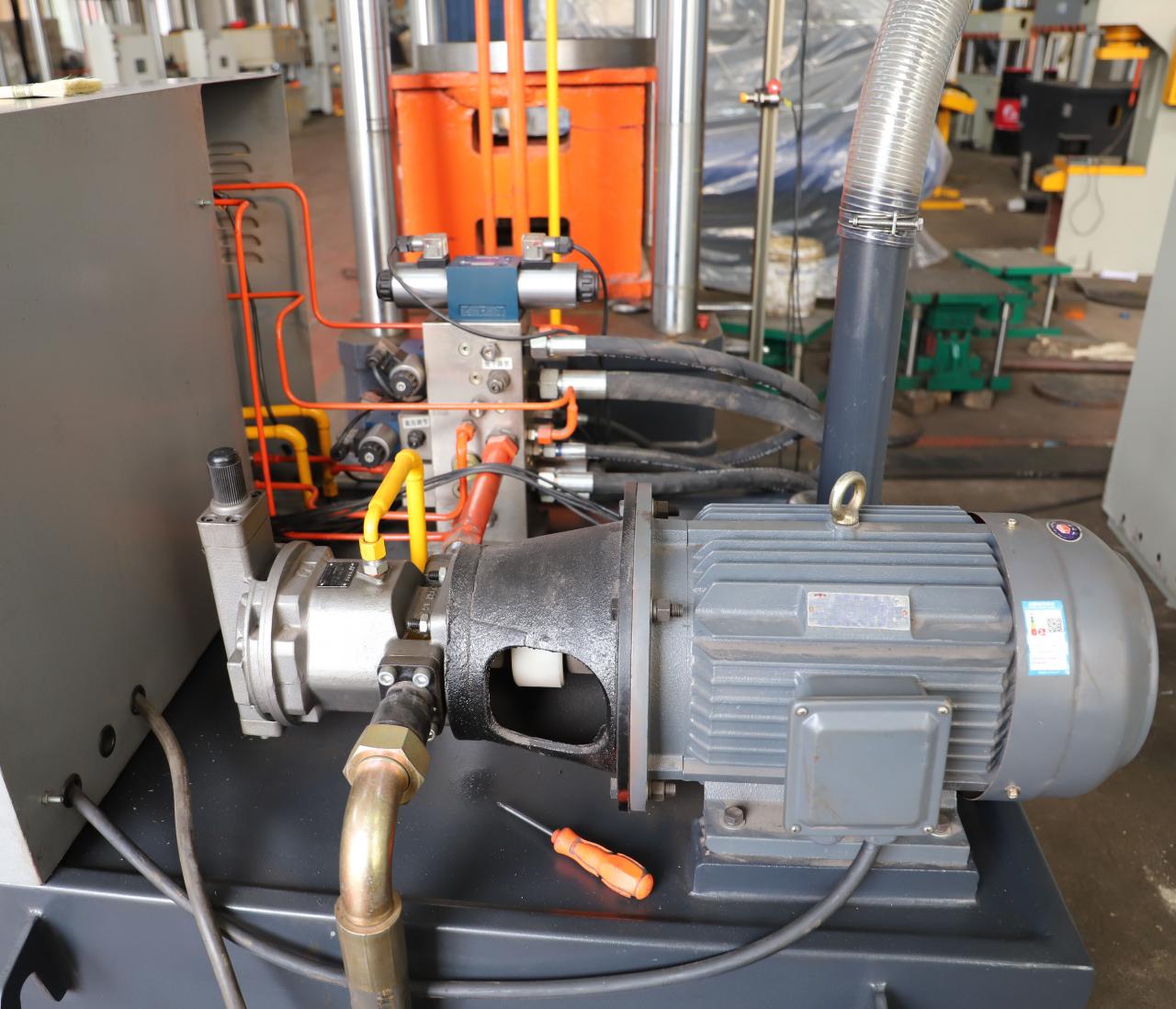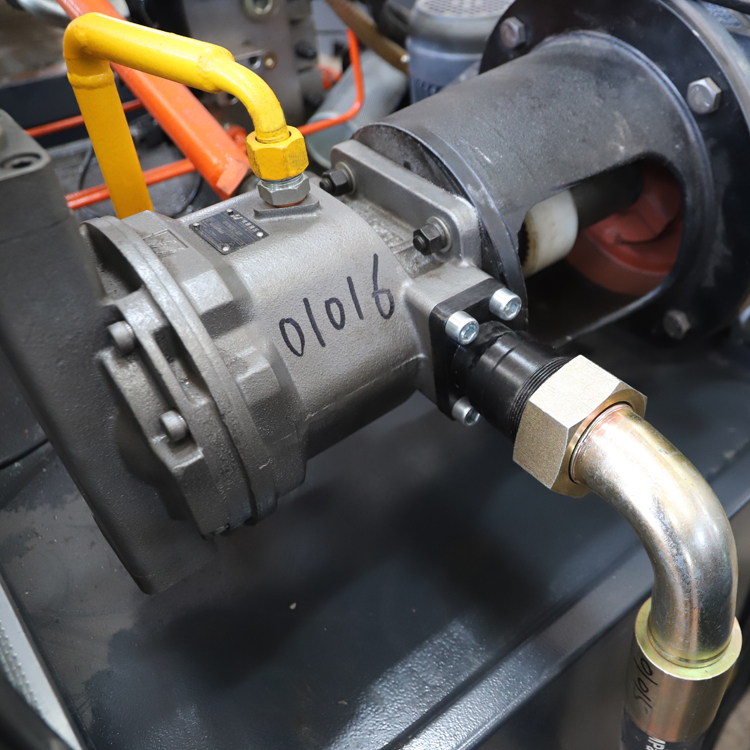 OIL PRESSURE PUMP
1. Flange connection, Good sealing effect, not easy to leak,
2. Nine plunger design, When the workpiece is finely processed, the oil supply density is high, and the oil pump runs more stable and generates less heat.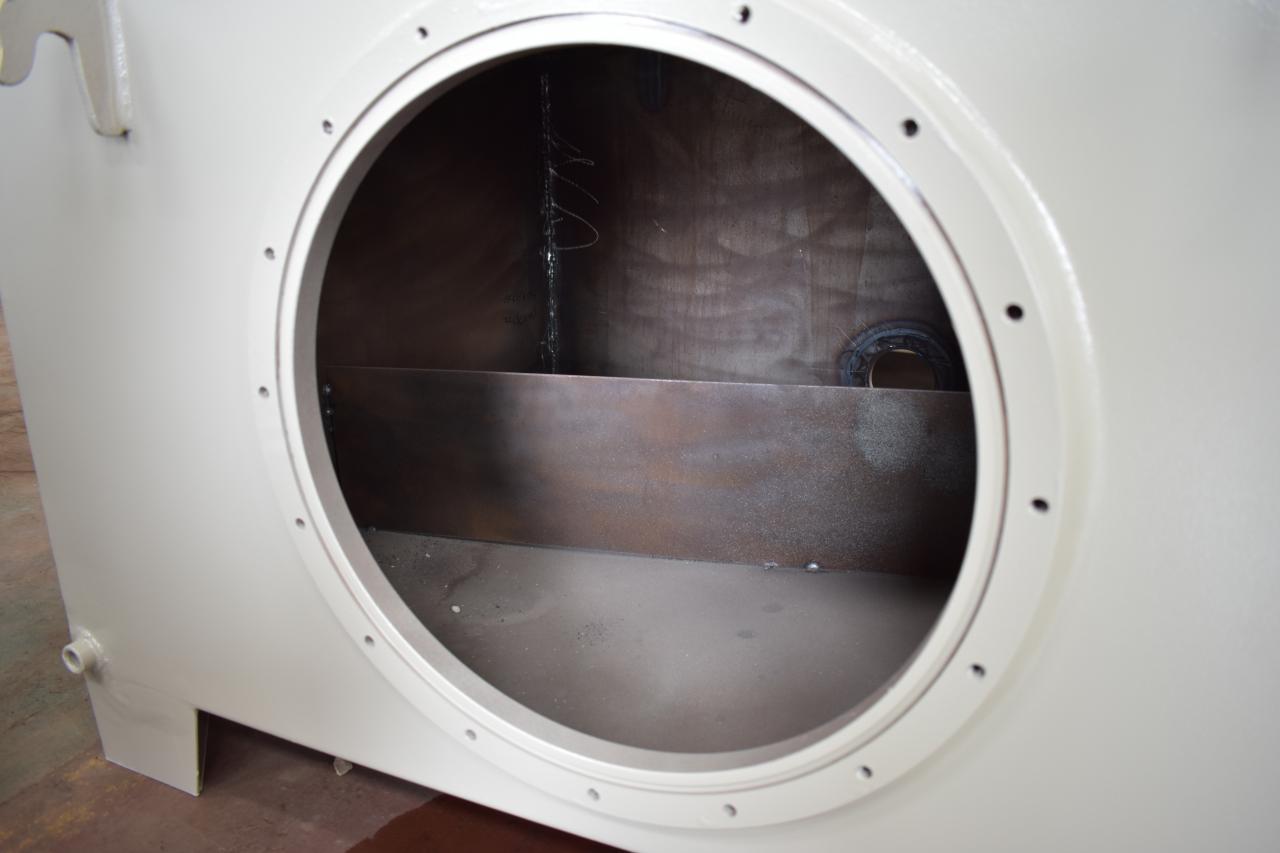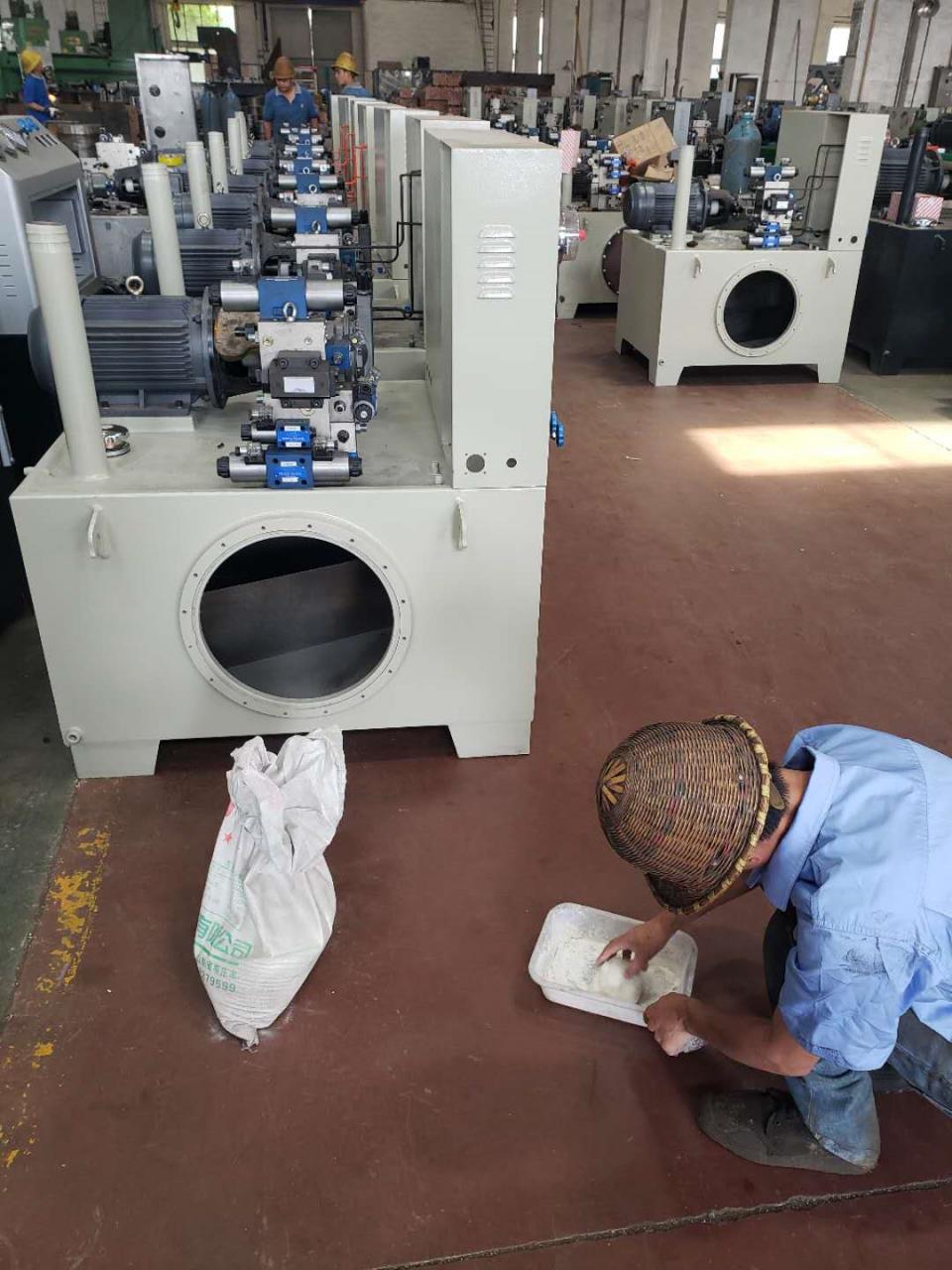 HYDRAULIC TANK
Shot blasting combines three new processes of high-pressure vacuuming dough clearance.After the equipment is commissioned, the fuel tank is opened again, and the hydraulic oil flows into the main tank through the high pressure, and the components of each part are cleaned twice.
Finished Products
The machine can be heated to produce BMC/SMC material.This machine can stretch and punch metal material. The machine can realize powder pressing and forming. Here are some pictures of the products produced by some of our machines: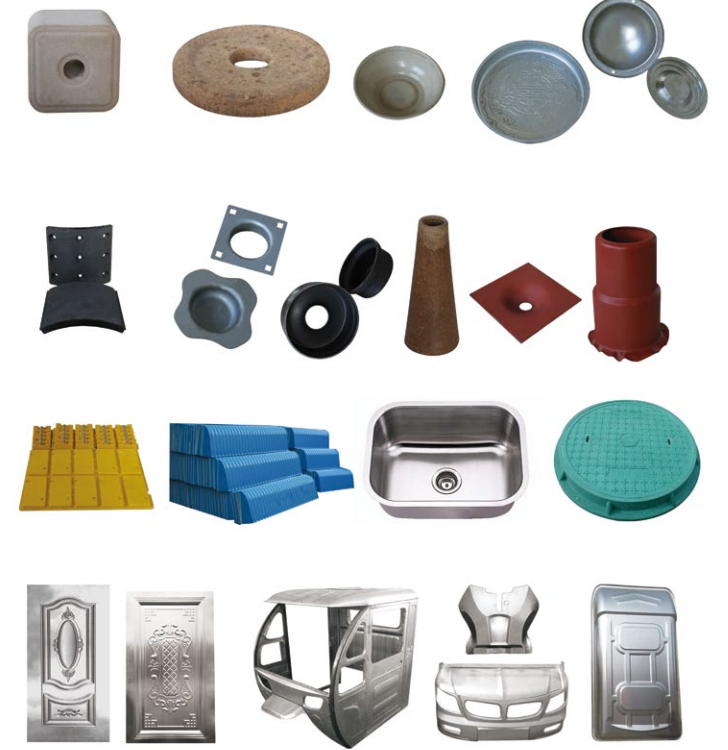 Conventional four-column hydraulic press under 100 tons in stock packing:
1. The four column metal stamping press machine surface with anti-rust treatment,
2.The four column metal stamping press machine inner layer of plastic waterproof packaging,
3.The four column metal stamping press machine outer layer of thick wood or steel frame fixed,And then use a synthetic board package. Combined container transport, or separate container transport.
FAQ
Q: How about your machine quality? We are worry about the quality.
A: RAYMAX is a mature brand in China. through our several years research in technology , our design including strcture and detailed sercurity and precision has enhanced greatly, and can match all the CE standard or mor strict standard.Our machines distribute worldwide to about 20 countries where there are metal plate industry.And where there are our machines, there are good reputation and terminal user satisfaction.
Q: Why Choose your company?
A: We can provide customized services according to customer requirements. We also have professional R &D team and fast response sales team. Strictly control each step of QA &QC system processes. We have an after sale service team than can quickly solve any problem you may have in the use.
Q: How to select your machine?
A: You can tell me your specifications ,we can choose the best model for you . we also have some regular model for you to choose.You can also provide the drawings, size , photos of the products, we can design the suitable machine for you according to your requirements. After the machine is finished, you can also provide samples and we will test it for you.
Details
Machine Type: Four-column Three-beam Hydraulic Press
Return Force (kN): 1000 kN
System: Servo
Condition: New
Voltage: as customer require
Dimension(L*W*H): 1100x650x2500mm
Weight (T): 2.5 T
Motor Power (kw): 7.5 kw
Key Selling Points: High-accuracy
Warranty: 1 Year
Applicable Industries: Farms, Building Material Shops, Garment Shops, Machinery Repair Shops, Manufacturing Plant, Food & Beverage Factory, Advertising Company, Restaurant, Printing Shops, Retail, Home Use, Construction works
Showroom Location: None
Marketing Type: Ordinary Product
Machinery Test Report: Provided
Video outgoing-inspection: Provided
Warranty of core components: 1 Year
Core Components: Bearing, Motor, Pump, Gear, PLC, Pressure vessel, Engine, Gearbox
Power Source: Hydraulic
Product name: 100 ton Presse Hydraulic Press 100 ton
Keyword shop hydraulic press 100 ton: hydraulic press for sale
hydraulic shop press function: make workpiece forming
pump station size: 1000x1200x1300 mm
tonnage: shop hydraulic press 100 ton
Usage: Metal Processing
Material: cast steel
working speed: 16-24mm/s
Application: Metal Sheet Stamping
After-sales Service Provided: Field installation, commissioning and training, Online support, Free spare parts, Video technical support, Field maintenance and repair service
After Warranty Service: Video technical support, Online support, Spare parts, Field maintenance and repair service
Local Service Location: None
Certification: CE Certificates