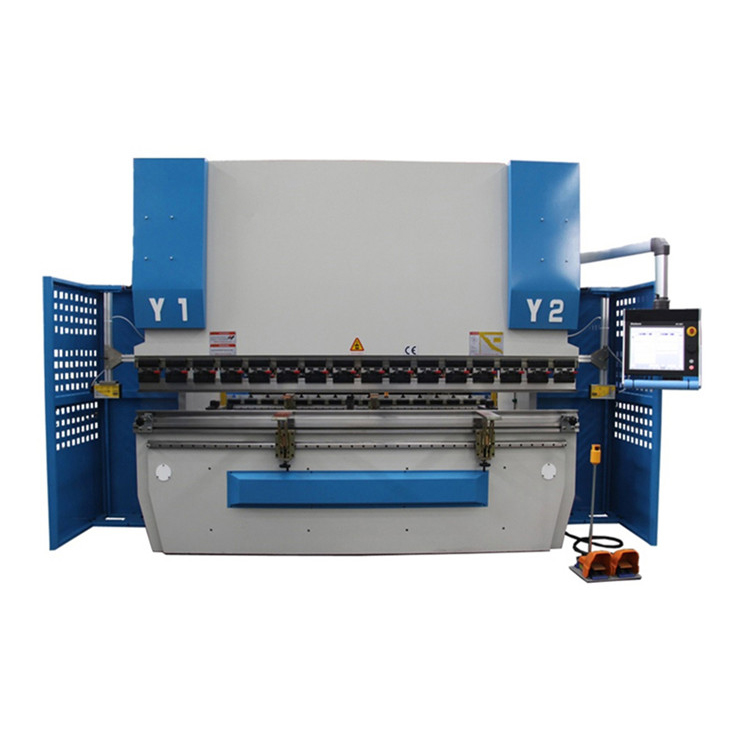 Properties and characters:
1.steel welded structure, stress elimination by vibration, high mechanical strength, and exceptional rigidity;
2. hydraulic top-drive, steady and reliable;
3.mechanical stop for maintaining synchronization and high precision;
4.electric adjustment, manual fine adjustment, and digital display for back stop distance and up sliding stroke.
Quick Details
Model Number: WC67Y 250T/6000
Condition: New
Material / Metal Processed: Stainless Steel
Power: Hydraulic
Automation: Automatic
Extra Services: End Forming
Certification: ISO 9001:2000
Machine configurations of press brake: china and world famous brand for optional
OEM service of plate press brake: available
controller of plate press brake: manual,nc and cnc can prWDovided.
Package of plate press brake: wooden case,or nude,depend on your choice
Weight of plate press brake: can be enlarge according to your needs
Working speed of plate press brake: can adjust according to your needs
voltage of plate press brake: usually is the 380V,220V,but also can according your country's.
Moulds moulds of plate press brake: special designed according to customer's needs
Throat depth of plate press brake: can be design according to your needs.
The color of plate press brake: depend on your choice.
After-sales Service Provided: Engineers available to service machinery overseas
Machine Type: Press Brake
Raw Material: Sheet / Plate Rolling
Functions:
This machine is high-efficiency and high-precision in bending sheet metal. Using different kinds of upper and lower dies can bend all kinds of work pieces. One slider travel makes a sheet bending and the complicated shape work piece may be achieved through bending many times.
Detail Images:
Overall structure:
1 Using UG (finite element) analysis, through computer aid design, with nice appearance.
2 The machine structure is welded with steel plate, with sufficient strength and rigidity.The hydraulic drive prevents the machine from serious overload operation accidents caused by the change of sheet thickness or bad choice of lower die cavity. Additionally, this machine is also featured by the steadiness of work, convenience of operation, and reliable safety.
3 The mechanic block is equipped in the oil cylinder to ensure the fixing accuracy when the slider travels to the bottom dead point and so as to assure the consistency of bending angle in bulking production.
4 Using German technology to eliminate internal stress.
5 Entire frame using striking grit to get rid of rust and spout anticorrosive paint.
Working slider structure:
1 The machine is equipped with hydraulic electric control, freely adjustable slider travels and inching, semi-automatic, automatic operating criterion convenient for module trial and adjustment.
2 Up-move type bending design,pair oil cylinders working simultaneously, balanced operation,convenient and safety.
Electrical control system:
1 Electric components and material are accord with international standard, safety and reliable, long life, and strong anti jamming capability.
2 Moving footpad attached.
3 Choosing high grade famous electrical control components.
4 The power of the machine is 3-phase and 4-line AC380V, control loop is AC220V.
5 Main power way of motor has short circuit,over load,lack phase protection.
6 Operation buttons equipped on machine button stage, electric switch,pilot lamp equipped in electric box.
7 Oil pump stop button as the total button of machine, when oil pump power off, whole machine stops working.
8 Inching control button and emergency stop button are installed on machine.
Back stopper:
The synchronization of the slider travel of bending machine is mechanic synchronous unit in simple, stable and reliable structure with synchronous precision required by this machine. And generally, it can be used for long time while don't need to be repaired frequently.
The adjustment of back stopper is droving by 0.55KW motor, drove by synchronous belt with precision ball bearing lead screw. With high driving precision and exact calculating.
Punch and die:
1. A set of upper and lower die attached with machine.
2. Normally, the short moulds in sectional form are used to splice for desired length with high precision, fine interchangeability, and convenience for dismantling and installation. In particular, the connecting section to the upper die is equipped with wedge-shape regulating unit, which, as compensation, may raise the work precision of work pieces in full length.
3. The lower dies are processed in different V-gutters to make operators select conveniently and it is equipped with lower die standing up structure, only need to put lifting roller chain on the slide lifting ear and lower die lifting ear, loose top formwork to raise slider to turn lower die then to select the location surface of V-Gutter.