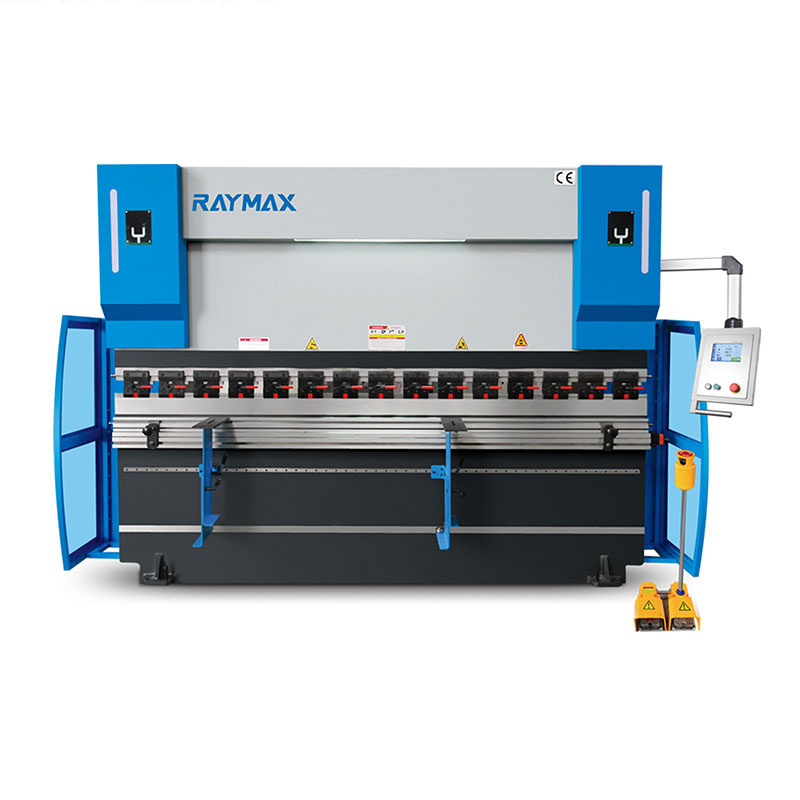 Main Configuration
1. Full EU streamlined design, heat treatment rack,high rigidity worktable.
2. Estun NC controller E21/DA41for Y axis and X axis control.
3. Working-piece counting function.
4. Bending retraction function
5. Backgauge with ball screw and Manual R axis
6. Optional V axis for compensation function.
7. light curtain for safty , optional DSP laser protection.
8. CE certificate and ISO9001*2008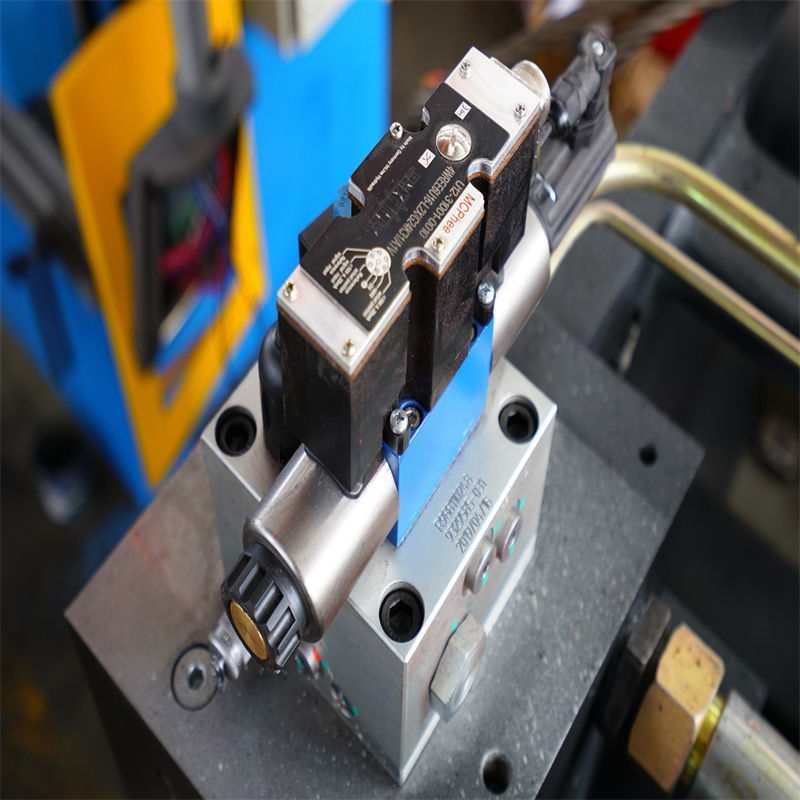 Stanard configuration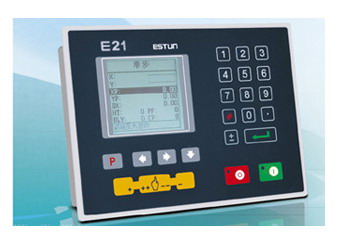 Estun E21 control (Y, X axis)
* Backgauge control
* Control the common motor or inverter
* lntelligent positioning
* Holding pressure unloading time setting
* Workpiece counting
* 40 programs stored, 25 steps per program
* Unilateral positioning
* Concession function
* One-key backup / restore
* mm / inch
* Chinese / English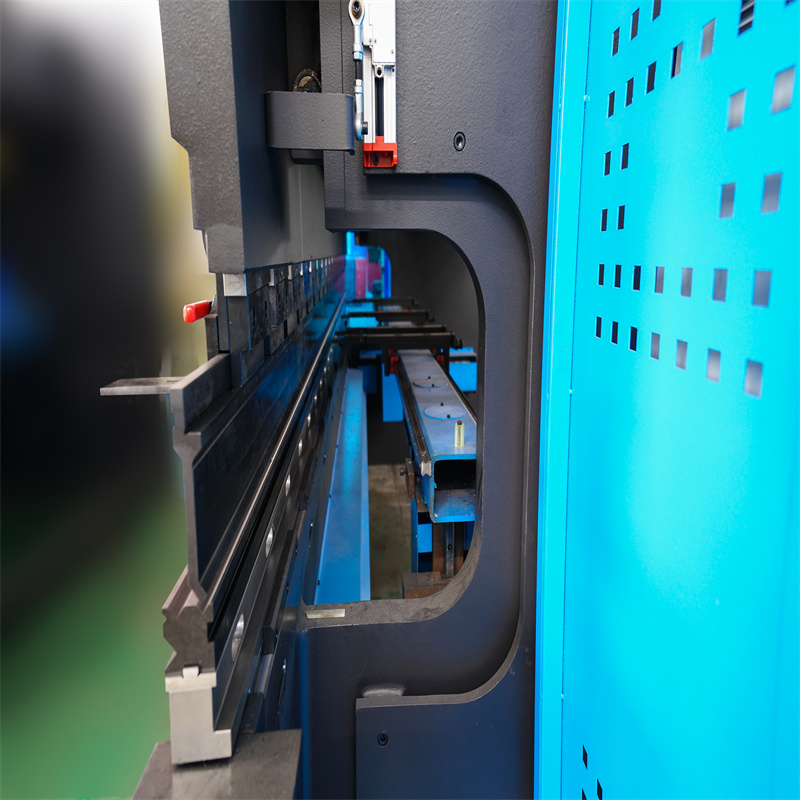 Product Paramenters
| | | | | | | | |
| --- | --- | --- | --- | --- | --- | --- | --- |
| Bending Capability | 80/3200 | 100/3200 | 100/4000 | 125/3200 | 125/4000 | 160/3200 | 160/4000 |
| Nominal Force(KN) | 800 | 1000 | 1000 | 1250 | 1250 | 1600 | 1600 |
| Worktable Length(mm) | 3200 | 3200 | 4000 | 3200 | 4000 | 3200 | 4000 |
| Column Distance(mm) | 2490 | 2490 | 3000 | 2490 | 3000 | 2490 | 3000 |
| Throat Depth(mm) | 250 | 320 | 320 | 320 | 320 | 320 | 320 |
| Ram Stroke(mm) | 120 | 120 | 120 | 120 | 120 | 180 | 180 |
| Main Motor Power(KW) | 5.5 | 7.5 | 7.5 | 7.5 | 7.5 | 11 | 11 |
| Bending Capability | 160/6000 | 200/3200 | 200/4000 | 200/6000 | 250/3200 | 250/4000 | 250/6000 |
| Nominal Force(KN) | 1600 | 2000 | 2000 | 2000 | 2500 | 2500 | 2500 |
| Worktable Length(mm) | 6000 | 3200 | 4000 | 6000 | 3200 | 4000 | 6000 |
| Column Distance(mm) | 4100 | 2490 | 3000 | 4600 | 2500 | 3000 | 4600 |
| Throat Depth(mm) | 320 | 320 | 320 | 320 | 350 | 350 | 350 |
| Ram Stroke(mm) | 200 | 200 | 200 | 200 | 250 | 250 | 200 |
| Main Motor Power(KW) | 11 | 11 | 11 | 15 | 15 | 15 | 15 |
| Bending Capability | 300/3200 | 300/4000 | 300/6000 | 400/4000 | 400/5000 | 400/6000 | 500/4000 |
| Nominal Force(KN) | 3000 | 3000 | 3000 | 4000 | 4000 | 4000 | 5000 |
| Worktable Length(mm) | 3200 | 4000 | 6000 | 4000 | 5000 | 6000 | 4000 |
| Column Distance(mm) | 2500 | 3000 | 4600 | 3100 | 3600 | 4600 | 3100 |
| Throat Depth(mm) | 350 | 350 | 350 | 350 | 350 | 350 | 350 |
| Ram Stroke(mm) | 250 | 250 | 250 | 250 | 250 | 250 | 250 |
| Main Motor Power(KW) | 18.5 | 18.5 | 18.5 | 22 | 22 | 30 | 30 |
| Bending Capability | 500/6000 | 500/8000 | 600/6000 | 600/8000 | 800/6000 | 800/8000 | 1000/6000 |
| Nominal Force(KN) | 5000 | 5000 | 6000 | 6000 | 8000 | 8000 | 10000 |
| Worktable Length(mm) | 6000 | 8000 | 6000 | 8000 | 6000 | 8000 | 6000 |
| Column Distance(mm) | 4600 | 6100 | 4600 | 6100 | 4600 | 6100 | 4600 |
| Throat Depth(mm) | 350 | 350 | 400 | 400 | 400 | 400 | 500 |
| Ram Stroke(mm) | 250 | 300 | 300 | 300 | 300 | 300 | 400 |
| Main Motor Power(KW) | 30 | 30 | 37 | 45 | 45 | 55 | 55 |
Details
Slider Stroke (mm): 200 mm
Automatic Level: Fully Automatic
Throat Depth (mm): 400 mm
Machine Type: Torsion Bar, Press Brake
Length of Working Table (mm): 4000 mm
Width of Working Table (mm): 120 mm
Condition: New
Material / Metal Processed: Brass / Copper, Stainless Steel, ALLOY, Carbon steel, Aluminum
Automation: Automatic
Extra Services: Machining
Weight (KG): 16500
Motor Power (kw): 15 kw
Key Selling Points: Automatic
Warranty: 2 years
Applicable Industries: Hotels, Garment Shops, Building Material Shops, Machinery Repair Shops, Manufacturing Plant, Food & Beverage Factory, Farms, Restaurant, Home Use, Retail, Food Shop, Printing Shops, Construction works , Energy & Mining, Food & Beverage Shops, Advertising Company
Showroom Location: None
Marketing Type: New Product 2020
Machinery Test Report: Provided
Video outgoing-inspection: Provided
Warranty of core components: 1 Year
Core Components: Bearing, Motor, Pump, Gear, PLC
Raw Material: Sheet / Plate Rolling
Model Number: WC67Y-250/4000
Open Height: 525mm
Nominal Pressure (kN): 2500 kN
Certification: ce