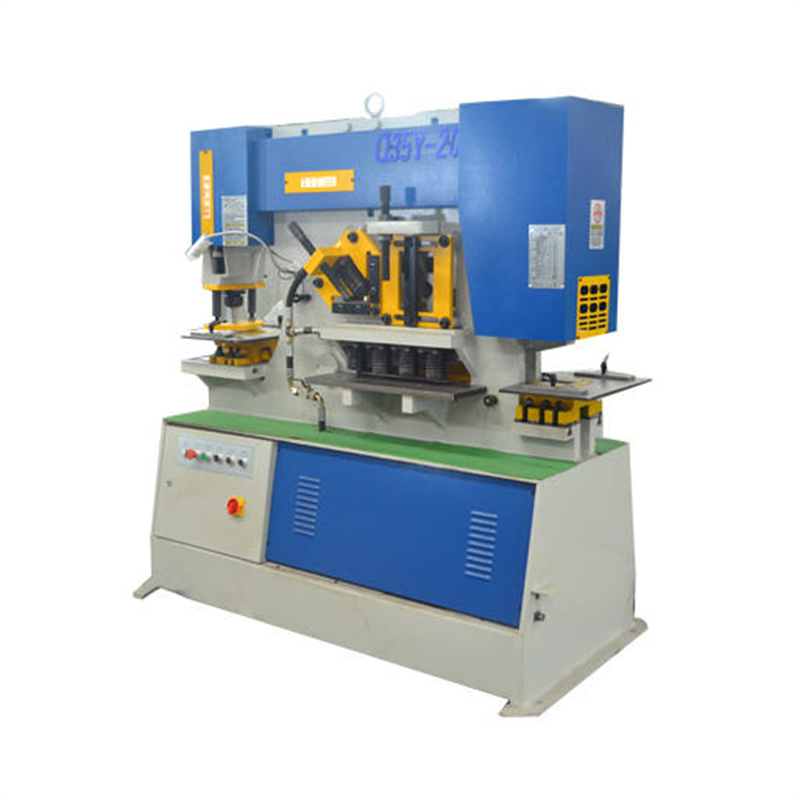 Product Description
Our steelworkers will bring,optimal quality and productivity in reasonable price in to your company. This universal machine, allowed you to punching, cropping, notching,cutting and many others function depend on your tool configuration. This machine os equipped with two separate stations which are able to work independently. Very precise machined mechanical parts and selected main hydraulic and electrical components guaranteed long serviceless function and stable operation in any conditions.
Detailed Images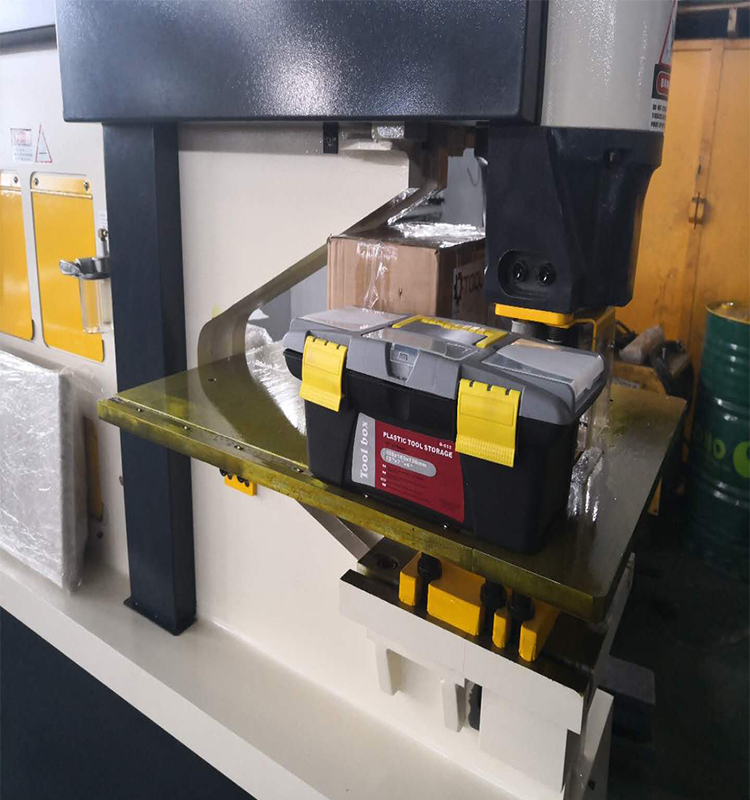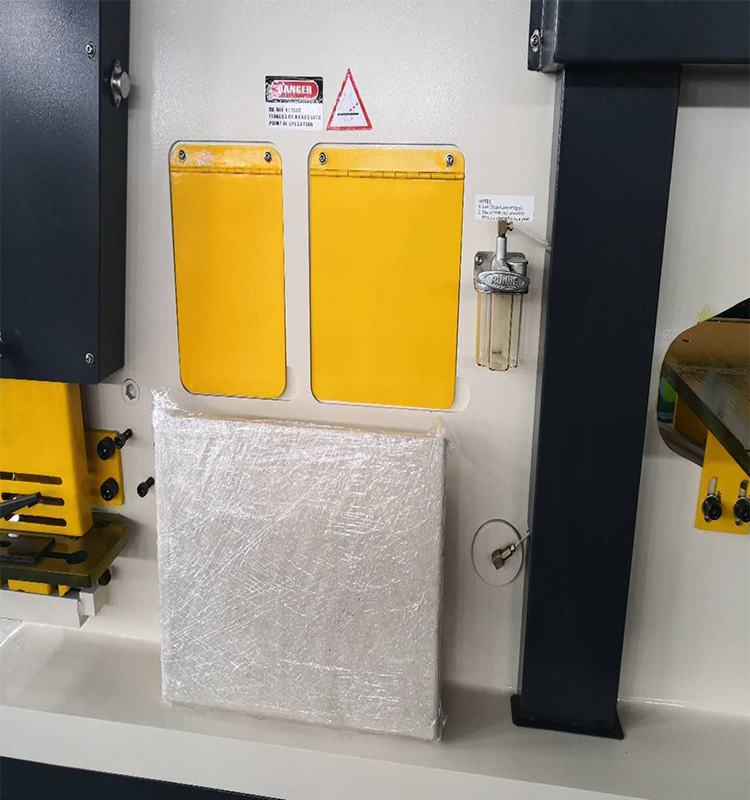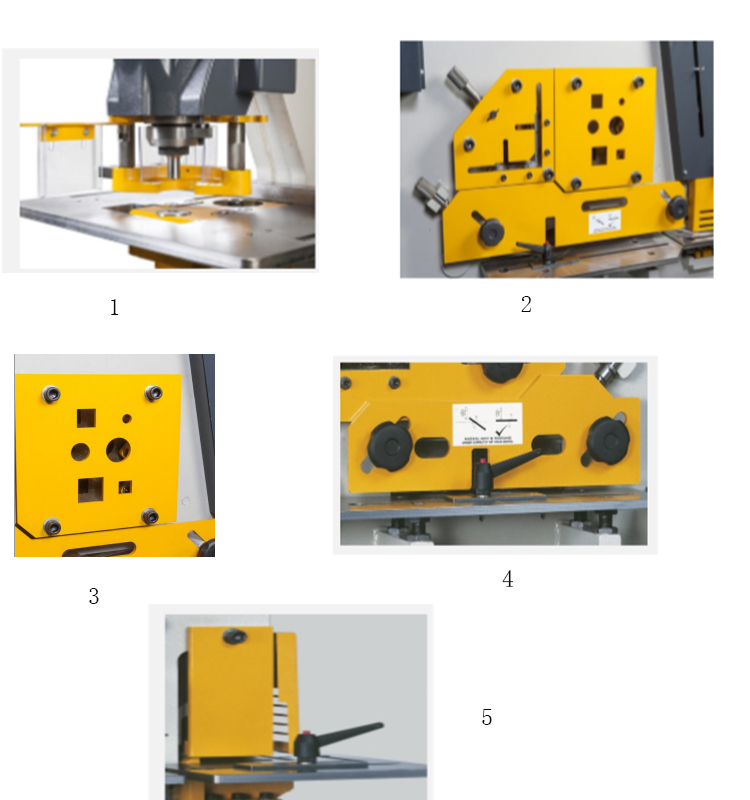 1. Punch station
The large punch bed area has a removable front block and is designed to give a very wide range of punching applications. A punch table with rules and guides for repetition work are fitted as standard equipment.
2. Angle station
This station provides large capacity angle cutting at 90° and 45°. Angles between 45° and 90° can be achieved by first cutting at 90° and then flange trimming to the required angle in the shearing station
3. Section cutting station
The machines are fitted as standard with blades for cutting round and square bars. With extra equipment, the machines are able to cut, in this aperture, channel, joist, T-section and many other special profiles.
4. Shearing
The shearing unit is fitted with a simple robust holddown which is adjustable to any thickness of material within the cutting capacity of the machine. The shear feed table with adjustable guides is fitted to allow accurate feeding of materials. The guide can be adjusted to allow mitre cutting up to 45° for fl at bars or to trim the fl angles of angle.
5. Notching station
The notching station is fitted as standard with a rectangular notch table with adjustable back stops, allowing repetitive positioning.
Applications
Punch station-applications (optional equipment)Minimum deform stripper assembly, Minimum deform stripper assembly to give minimum deformation while punching close pitch holes in fl at bar.
Quick tool change
Quick change punch holder. Only needs to turn the punch holder by 90° to lock in position.Large hole attachment, Large hole/slot attachment for diameters from 38 up to 110 mm. Also available for diameters up to 160 or 225 mm.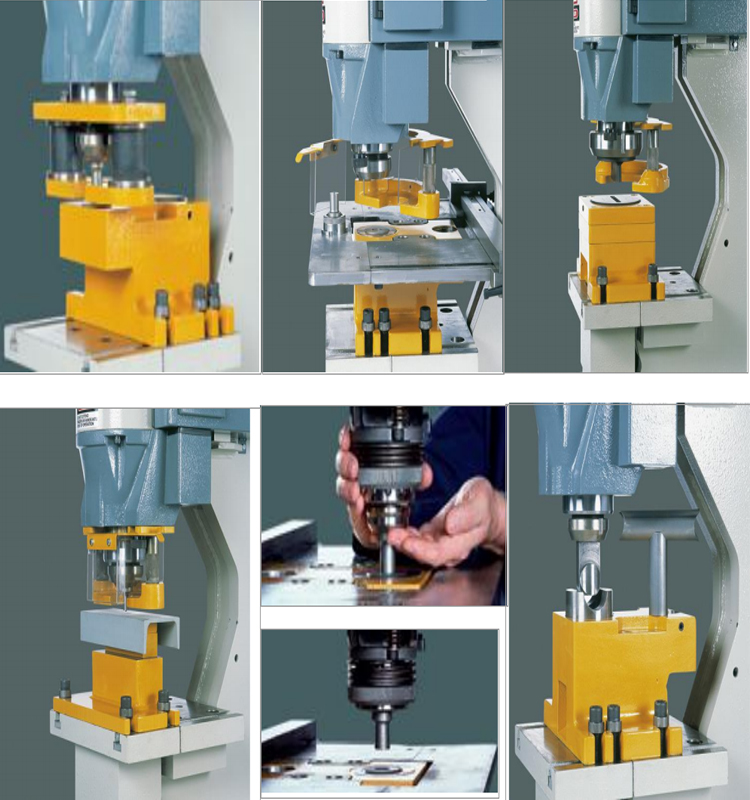 Channel/beam web bolster
Specially designed web bolster for punching in the web of channel or beam. Bolsters for special profiles available on application.
'Super-quick' tool change
Spring and ball bearings lock/un-lock the tool in position with 90° hand turn. No spanners or wrenches required.
Tube notch unit
For 90-degree connection with tubes. Available for outside diameters up to 165 mm.
Sheet bending unit
Sheet bending unit with multi-vee block (with 10, 20, 24 & 40 mm wide V openings, all 85°).
Louvre punch unit
Special punch unit for punching ventilation applications.
Bar bending unit
For bending material up to max. 22 mm thickness. With single-vee block, 76 mm with V at 85°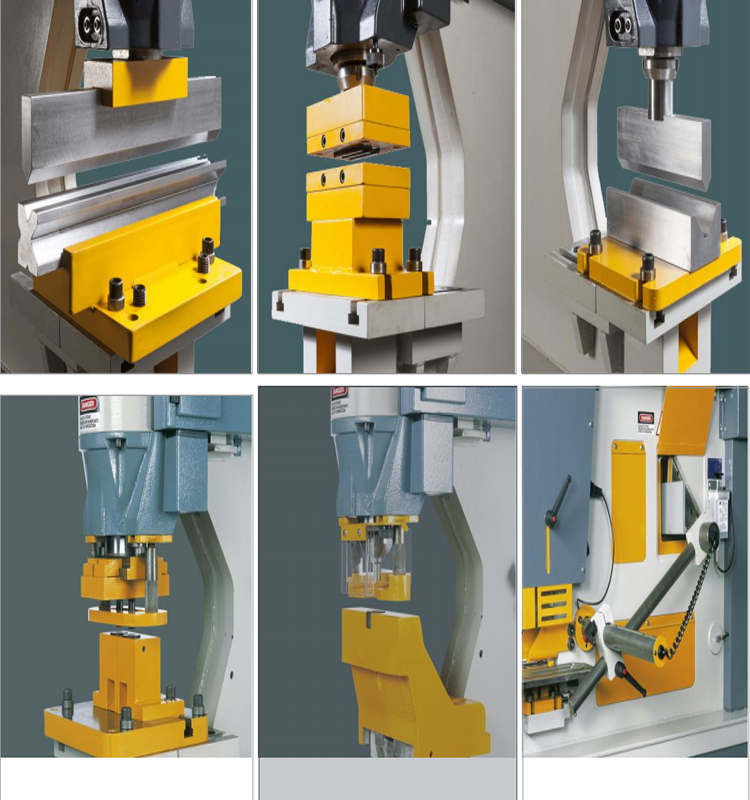 Twin hole unit
Twin hole variable pitch unit. Punches 2 holes up to 29 mm dia.
Swan neck bolster
For web and flange punching up to 32 mm dia. in 300 mm max. channel and 'I'beam.
Touch & cut ruled length stop
The (optional) Touch & Cut ruled length stop (one metre) can be used for the angle-cutting, section-cutting and shear station. 2 or 3 metre lengths available.
Technical Features
Model
MULTY 70
MULTY 95
MULTY 125
RATED CAPACITY
70T
95T
125T
PUNCHING
Maximum capacity
26*20
27*25
35*25
Diameter * Thickness
57*9
57*12
67*16
Travel
55
80
80
Standard depth of throat
305
355
355
Deep throat(optional)
625
625
625
Standard maximum punch
57
57
57
Optional maximum punch
160
160
225
Maximum beam size
305
305
305
SHEARING
Plate Thickness
300*20
380*20
380*25
Maximum sheet width
375*15
480*15
600*15
45' angle shear,maximum 45'
100*15
120*15
120*15
90' Cut
130*13
150*15
150*18
45'Cut
70*10
80*10
80*10
SECTION CUTTING
Round bar/Square steel
45
50
55
Channel / H-Beam*
130*65
160*90
200*100
T-Beam*
90*12
100*12
120*12
NOTCHING
Plate Thickness
12
13
13
Width- Rectangle
45
52
60
Deep-Rectangular
90
100
100
Deep-V-Shaped
60
70
80
Trimming
100*10
100*13
100*13
CORNER NOTCH*
Notching maximum capacity
250*6
250*6
250*6
TUBE NOTCH*
Maximum pipe diameter
83
108
108
BENDING*
Flat steel bending
250*13
250*20
250*22
Plate bending
500*3
500*3
700*3
PUNCHING AT NOTCH STATION
Deep throat
125
125
125
Maximum capacity
38*8
38*10
38*12
TECHNICAL DATA
Motor power KW
7.5
7.5
7.5
Machine net weight Kg
1620/1990
2430/2880
3100/3620
Machine dimensions (L*W*H)cm
164*71*180
190*79*191
200*80*203
Details
Model Number: Multi 70
CNC or Not: CNC
Condition: New
Nominal Force (kN): 700 kN
Power Source: Hydraulic
Voltage: 380V/220V Optional
Dimension(L*W*H): 1640*710*1800
Motor Power (kW): 7.5
Weight (T): 1.62199
Key Selling Points: Multifunctional
Warranty: 1 Year
Showroom Location: None
Applicable Industries: Building Material Shops, Farms, Printing Shops, Construction works , Energy & Mining, Food & Beverage Shops, Advertising Company
Machine Type: Hydraulic Ironworker
After-sales Service Provided: Online support, Video technical support, Field maintenance and repair service
After Warranty Service: Video technical support, Online support, Field maintenance and repair service
Local Service Location: None
Slide Stroke (mm): 55/80
Certification: CE
Pressure capacity: 70T
Function: Punch Holes,Section Steel Cutting,Slotting,Angle Notching,Bending
Punching At Notch Station Deep Throat: 125
Maximum Capacity: 70T
Diameter*Thickness: 57*9
Travel: 55
Standard maximum punch: 57
Optional Maximum Punch: 160
Maximum Beam Size: 305
Color: Yellow / Option