Products Description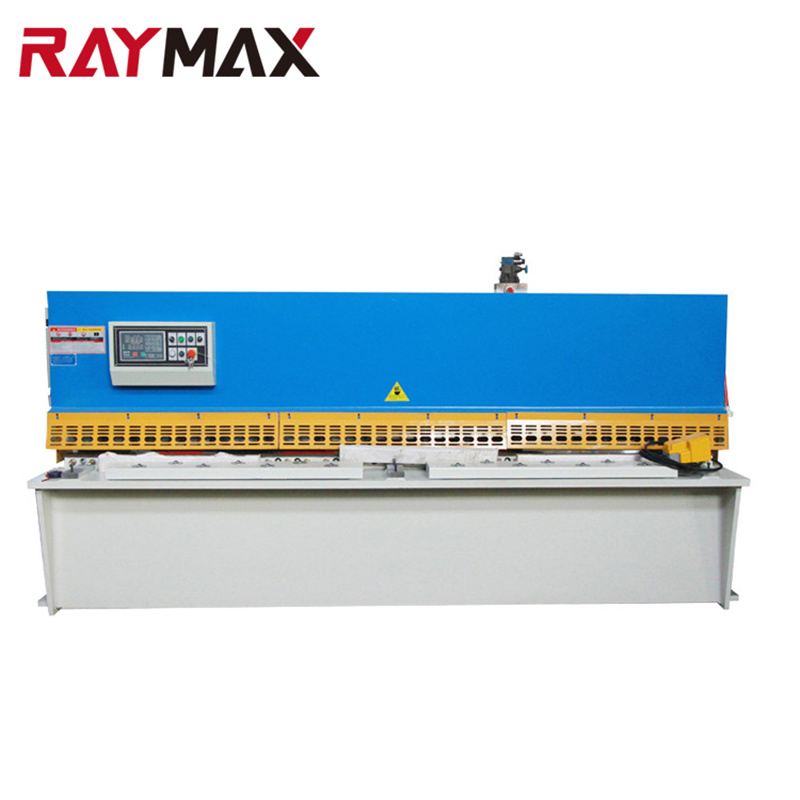 - Streamlined looking,Frame: consists of right and left wall boards, working table, oil box, slot steel and etc. The stress of the welded parts can be eliminated by vibration. The machine enjoys high accuracy and high strength and can be transported easily.
- As the cutting beam has been designed in inner-inclined structure, it is easy for plates to fall down and the accuracy of products can also be guaranteed.
- High accuracy, high efficiency, simple and convenient operation, good performance, favorable price and best service.
- The machine by CE certification and ISO quality system certification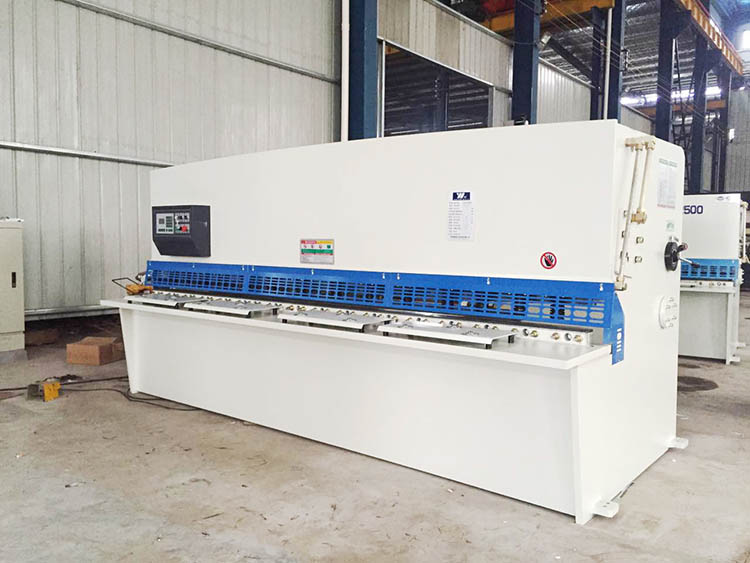 QC12Y Series Hydraulic shearing machine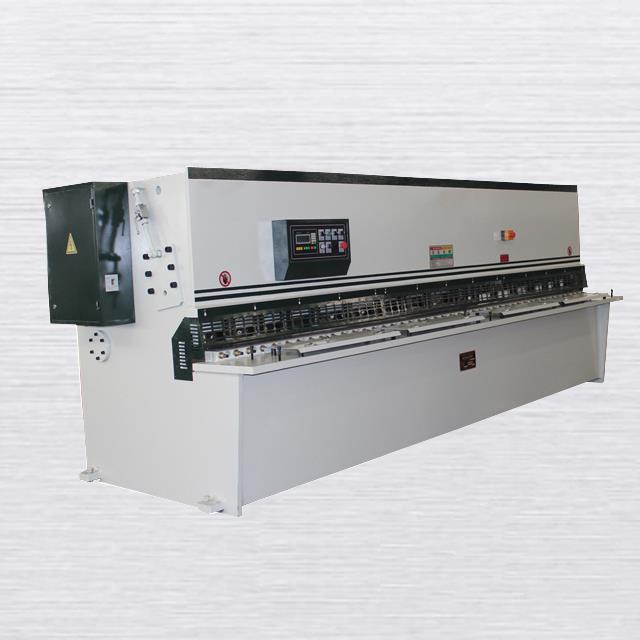 Hydraulic shearing machine Features
1. Entire welded frame, tempering.(our feature)
2. Digital display,back gauge size & shear times
3. Balde clearance indicated,easy for adjusting
4. Cartridge type hydraulic system,impove the reliability and security for Hydraulic shearing machine running.
The working conditions and environments used are:
1. Input power: 380V ± 5% / 50Hz ± 1, three-phase five-wire (according to customer requirements) or Input power: 220V ± 5% / 60Hz ± 1, three-phase
2. Ambient temperature: 0℃-45℃
3. At 40 ℃: relative humidity≤50%; at 20℃: relative humidity≤85%
The use of occasions should not seriously affect the use of welding gas, steam, chemical deposition, dust, mold and other easy fuel and corrosive substances, and does not allow severe vibration and bumps. The equipment should be placed in a dry and ventilated place and prevent sunlight, direct and rain.
QC11Y Series Hydraulic shearing machine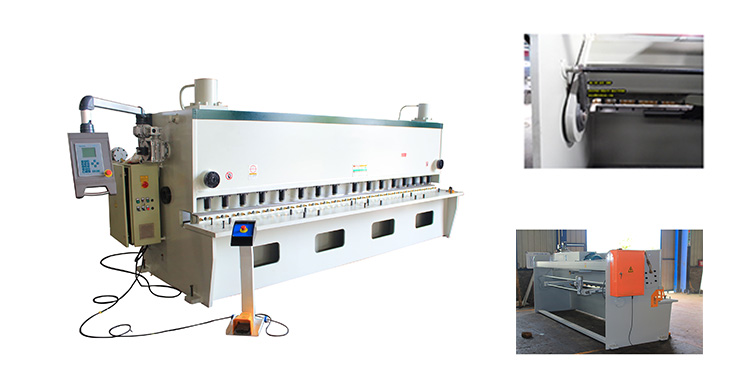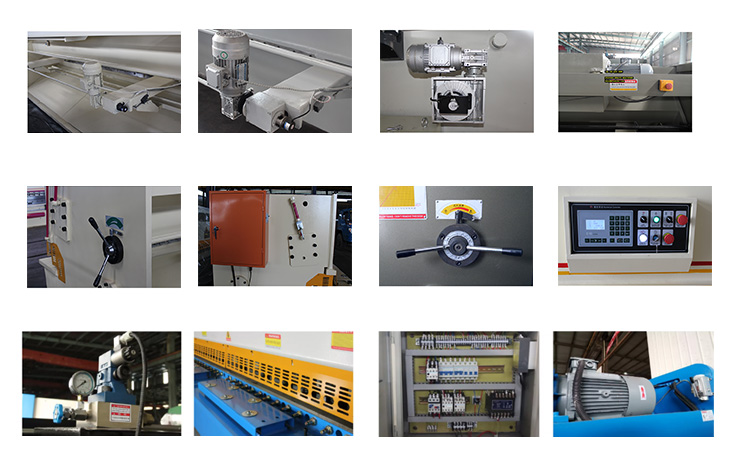 QC12Y Series Hydraulic shearing machine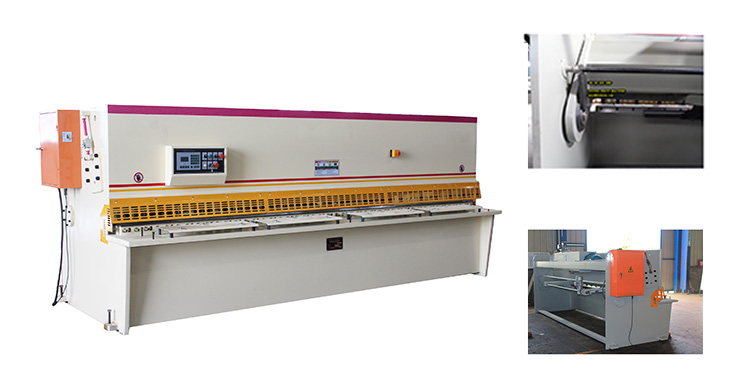 - Electrical components are imported or from Sino-foreign joint Venture, in accordance with international standards, reliable safety, long life, good anti-interference ability.
- Protective fence and the safety interlock to ensure the operation safety. Have a movable single-hand pedal switch, easy to operate.
- Emergency stops on machine and foot switch for safety and Fence like body guard is standard or light curtain is optional.
The famouse brand for Motor ,Gear pump ,Hydraulic system,Ball screw and line guide ,Sealing rings ect.
Product Paramenters
| | | | | |
| --- | --- | --- | --- | --- |
| Type | Cutting length | Travel times | Stopper adjust range | Power |
| 4x2500 | 2500mm | 28 Min-1 | 20-500mm | 4.0kw |
| 6x3200 | 3200mm | 14 Min-1 | 20-600mm | 7.5kw |
| 8x6000 | 6000mm | 8 Min-1 | 20-600mm | 11kw |
| 10x4000 | 4000mm | 6 Min-1 | 20-600mm | 11kw |
| 12x5000 | 5000mm | 10 Min-1 | 20-800mm | 30kw |
| 16x3200 | 3200mm | 6 Min-1 | 20-800mm | 22kw |
| 20x4000 | 4000mm | 6 Min-1 | 20-1000mm | 30kw |
| 25x3200 | 3200mm | 6 Min-1 | 20-1000mm | 37kw |
| 30x3200 | 3200mm | 4 Min-1 | 20-1000mm | 37kw |
For the steel guillotine shear, besides the above model, we accept customized accordingly.pls advise the plate length and thickness, we will design the steel guillotine shear for you. we use the famouse brand for Hydraulic shearing machine configurations, smoothly cutting effect, good quality and high performance.
| | | | |
| --- | --- | --- | --- |
| No. | Item | Quantity | Brand |
| 1 | Motor | 1Set | Siemens China |
| 2 | Gear pump | 1Set | Sunny USA |
| 3 | Casting connector | 1Set | Cast CO Italy |
| 4 | Main electric parts | 1Set | Siemens China |
| 5 | Hydraulic system | 1Set | Rexroth Germany |
| 6 | Sealing rings | 1Set | Valqua CO Japan |
| 7 | Blade | 1Set | Jinshan China |
| 8 | Ball screw and line guide | 1Set | Hiwin TaiwanChina |
| 9 | E21 CNC System | 1Set | ESTUN China |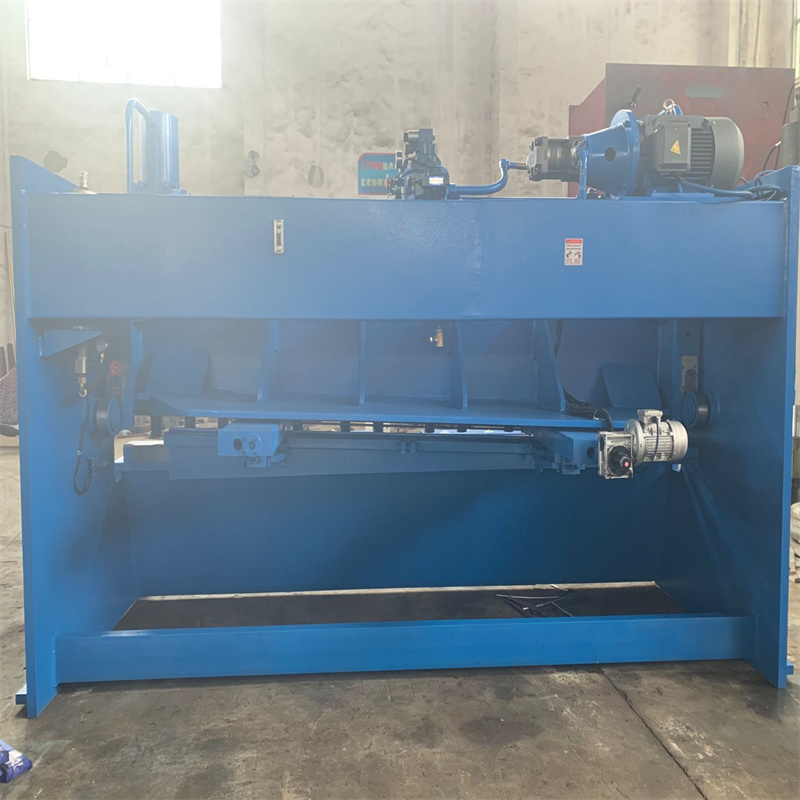 Why Choose Us
1. Management objective
Quality roots in responsibility, honesty creates value.Strives for perfection, the good faith for this, the customer is supreme, for customer creation value.We insist, pragmatic, pioneering and the principle of good faith.
2. Sourcing Solutions
Detail matters!It is our policy to ensure we understand your product or range requirements 100% before selecting the right manufacture for you.
3. Quality Control
We arranged professional person to test each one machine before sending goods to foreign countries. we are not send unqualified equipment to abroad.
4. After-sales
We put a lot of hard work into making sure we supply you with the products you want,so why wouldn't we want to hear about your success with them? we also know that sometimes,issues do arise.your feedback is vital for us to continue to improve.
One year warranty will be offered, we will provide with some accessories that is broken within one year after the factory
inspection date (see factory inspection sheet).Accessories will be sent by common mail or sea freight.
5. Documents
We offer the following documents for customs clearance, if you require extra documents please inform us in advance.
1) 3 Original B/L
2) 3 Original Commercial Invoice
3) 3 Original Packing List
4) 1 Original Insurance Certificate (for C.I.F term)
5) 1 Original certificate (if necessary) Recommend Products
Product packaging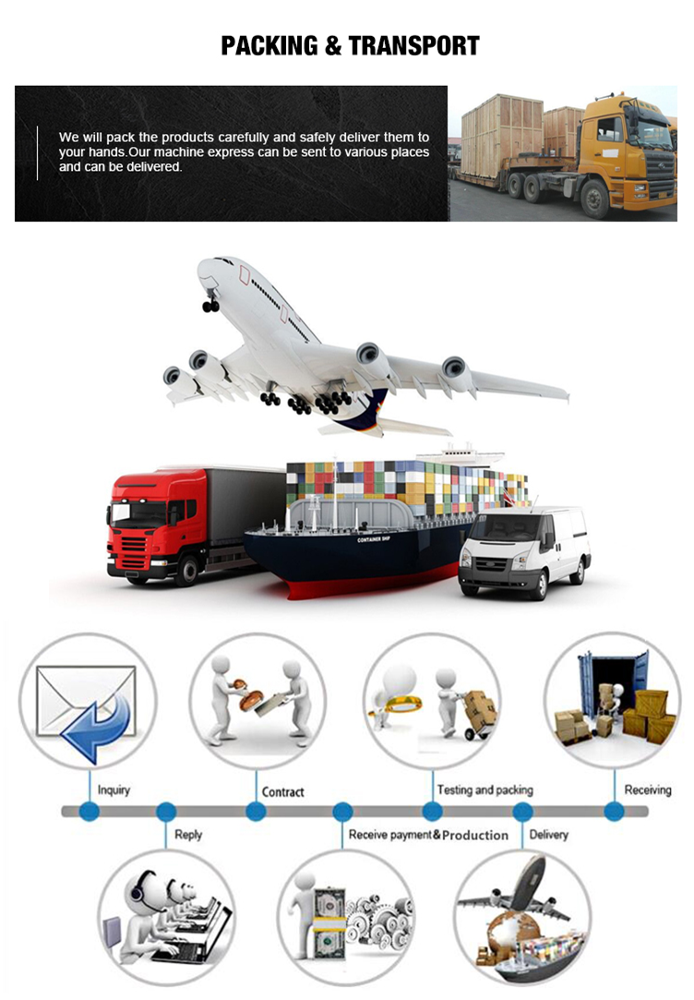 FAQ
1. We have a very rich experience and strong machine tool research and development capability. We are very willing to offer you customized highly-efficient equipment as long as you have certain amount of needs.
2. What certificate the machine in your company get?
We've passed the ISO9001 Quality System Approval and CE Certification.
3. Do you have price list for optional configuration?
We have various configurations and so many different specifications, so we can't offer you price list. Please contact our sales engineer if you're interested in certain specific configuration.
4. Does your company accept CIF price?
CIF price includes shipping cost of cnc machine which needs to quote according to the different destination port and various in different months. Please contact us when you have such need.CIF price also includes marine premium which is 2‰ of 1.1*total amount.
5. If your engineer come to our country to fix the machine and do some training, how much will it cost?
The cost mainly contain the cost of round-trip flight tickets, board and lodging as well as v isa fee. Staff cost is
100USD/day/person, normally, it's a two person job. But it will depends for a large equipment or installation and debugging of the whole line.
6. What's the warranty?
Warranty is 12 months which begins from the day when the machine has arrived at the importer's port.
7. What's your methods of transportation?
For most countries, we will transport our machine by sea, as for inland countries, we may use railway or highway transportation.Exported cnc machine is all be packed by wooden case which can be fixed into a 40 HQ.
8. If the machine is out-of-warranty, how to charge the cost of accessories?
For the out of warranty machine which needs to replacement parts, we will charge according to the parts quotation. If you have any questions, please email us for consultation.
9. What I would do for the machine failure?
If the machine malfunction and users are unable to resolve, please email us for consultation. Our service department will respond within 24 hours.
10. How to define the machine warranty? When did you start timing?
We identify the warranty based on the factory number. Warranty timing counted starting after equipment commissioning and acceptance. If you have any questions, please email us for consultation.
11. How long is the warranty period of machine tool?
We commitment to client machines are one-year warranty. For the purchase of the user, registered as a member in this website, with the factory number of the machine, you can enjoy extended warranty of 3 months. For details, please refer to membership service.
12. Does MC have maintenance manual and operation manual?
Each cnc machine leaving the factory will be along with related series or model the English instructions including maintenance manual and operation manual. Attached documentations may also include cnc controller instruction, parts instruction you bought(like rotaty table, oil cooler)
Details
Max. Cutting Width (mm): 3200
Max. Cutting Thickness (mm): 12 mm
Automatic Level: Fully Automatic
Shearing Angle: 1-2
Blade Length (mm): 6000 mm
Backgauge Travel (mm): 20 - 600 mm
Throat Depth (mm): 200 mm
Condition: New
Power (kW): 5.5 kW
Weight (KG): 5700 KG
Place of Origin: China
Voltage: 220V/380V
Dimension(L*W*H): 6480X2100X2300
Warranty: 1 Year
Key Selling Points: Competitive Price
Applicable Industries: Building Material Shops, Machinery Repair Shops, Manufacturing Plant, Farms, Construction works , Energy & Mining, Advertising Company
Showroom Location: United States, France, Germany, Brazil, Peru, Chile
Marketing Type: New Product 2020
Machinery Test Report: Provided
Video outgoing-inspection: Provided
Warranty of core components: 1 Year
Core Components: Bearing, Motor, Pump, Gear, PLC, Pressure vessel, Other, Engine, Gearbox
Name: Hydraulic Cnc Plate shearing machine,plate shearing machine
Machine body: Steel plate welded frame
Cutting method: Hydraulic power
Cutting angle: Adjustable
Use in: Metal forming industry
Products: Different kinds of sheet type
Named: Guillotining shear machine
Title: Sheet metal cutting machine
Weight: 5700kg
Rated Power: 5.5KW