Machine Description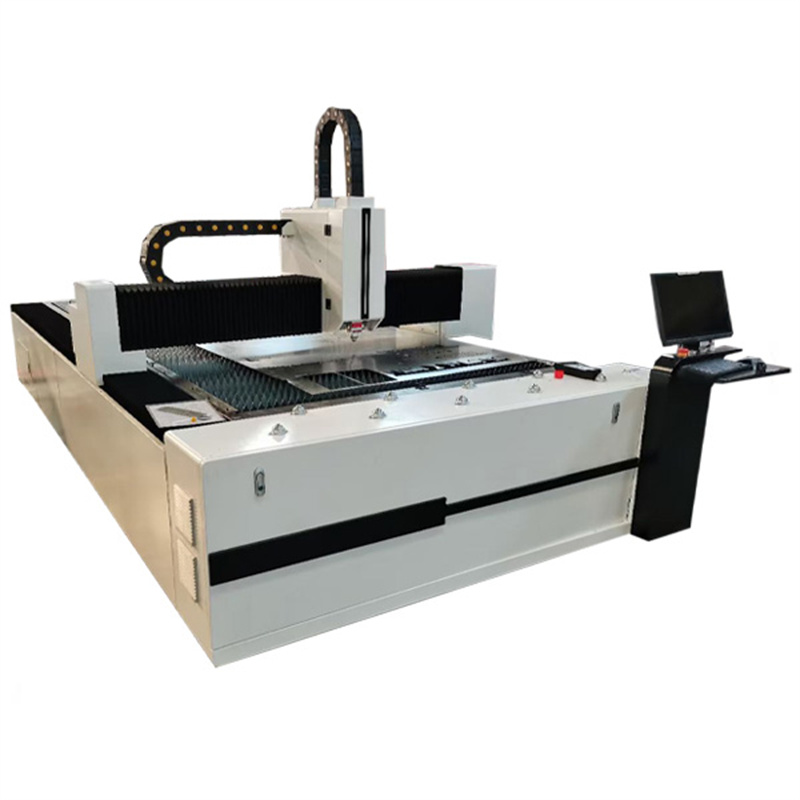 Laser cutting is the best cutting method among the various cutting technologies that people have mastered today. The advantages of laser cutting are: small thermal deformation, high cutting accuracy, low noise, no pollution, easy to realize automatic cutting, although the initial investment is large ( Disadvantage), but the processing cost is 50% less than mechanical processing. As an advanced manufacturing technology, laser cutting has the advantages of wide application range, flexible process, high processing precision, good quality, clean production process and easy realization of automation, flexibility, intelligence, and improvement of product quality and labor productivity.
Machine Feature
1. The machine adopts an open worktable structure, imported high-precision dual-drive rack and pinion and linear guide rail, stable transmission and high precision.
2. Both the bed and the moving beam adopt an integral welding structure. The bed is heat-treated at 600°C and finished by 12-meter gantry milling. It is cooled in the furnace for 24 hours. After annealing, it is roughed and then subjected to vibration aging treatment, which can completely eliminate welding and Processing adaptability, good rigidity, high precision, can keep long-term use without deformation.
3. The X, Y, and Z axes are all imported from France with servo motors with high precision, high speed, large torque, large inertia, stable and durable performance. Ensure the high speed and acceleration of the whole machine.
4. It adopts the special numerical control system of CYPCUT fiber laser cutting machine based on Windows operating system, and integrates many special function modules for laser cutting control, with powerful functions, good man-machine interface and simple operation.
5. CYPNEST Expert Edition nesting software is the core technology for CNC cutting machines to realize "full-time cutting, high-efficiency cutting and high nesting rate cutting". It is the fundamental guarantee for effectively saving materials and improving cutting efficiency.
6. The cutting head adopts special fiber laser cutting heads produced by internationally renowned brands and capacitive sensors, with high sensing accuracy, sensitive response, and the most stable and reliable performance. 7. The high-precision electronically controlled proportional valve imported from Germany can precisely control the air pressure of the cutting auxiliary gas to achieve the best cutting effect.
Machine Components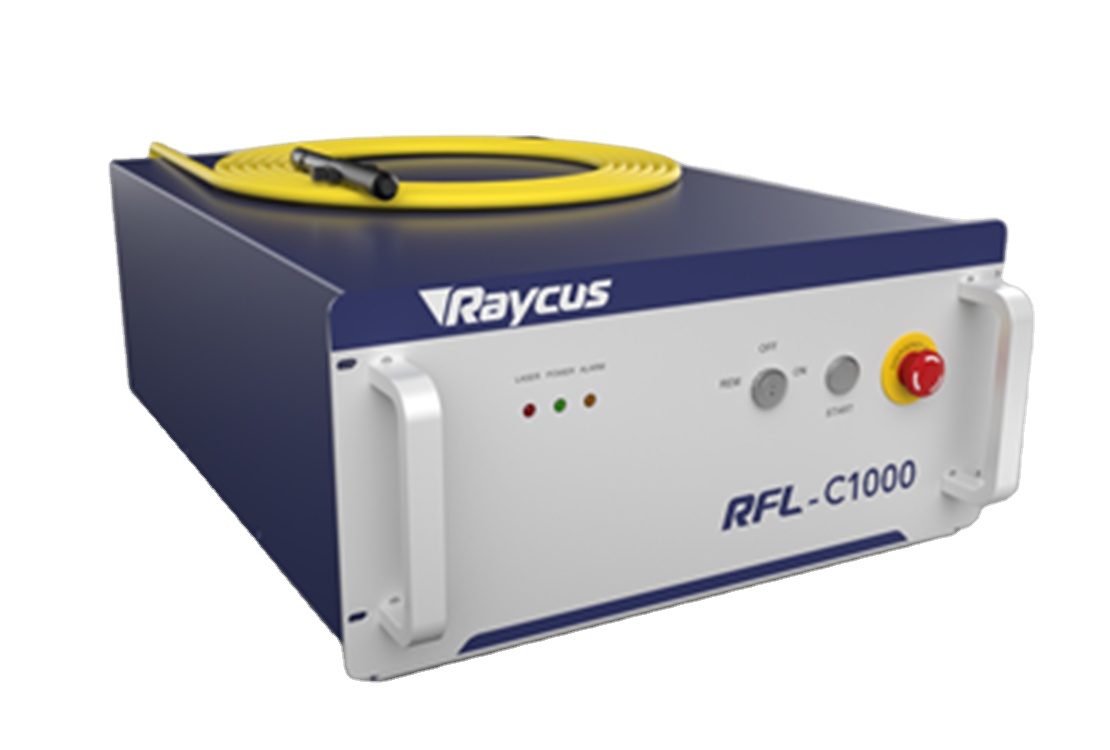 Raycus RFL-C1000 fiber laser source
• Excellent beam quality (BPP)
• Constant BPP in the full power range
• Use a long focal length to still get a small spot
• Electro-optical conversion efficiency>25%
• Maintenance-free operation
• Modular design, "plug and play"
• Small size and easy installation
• Service life of pump source >100,000 hours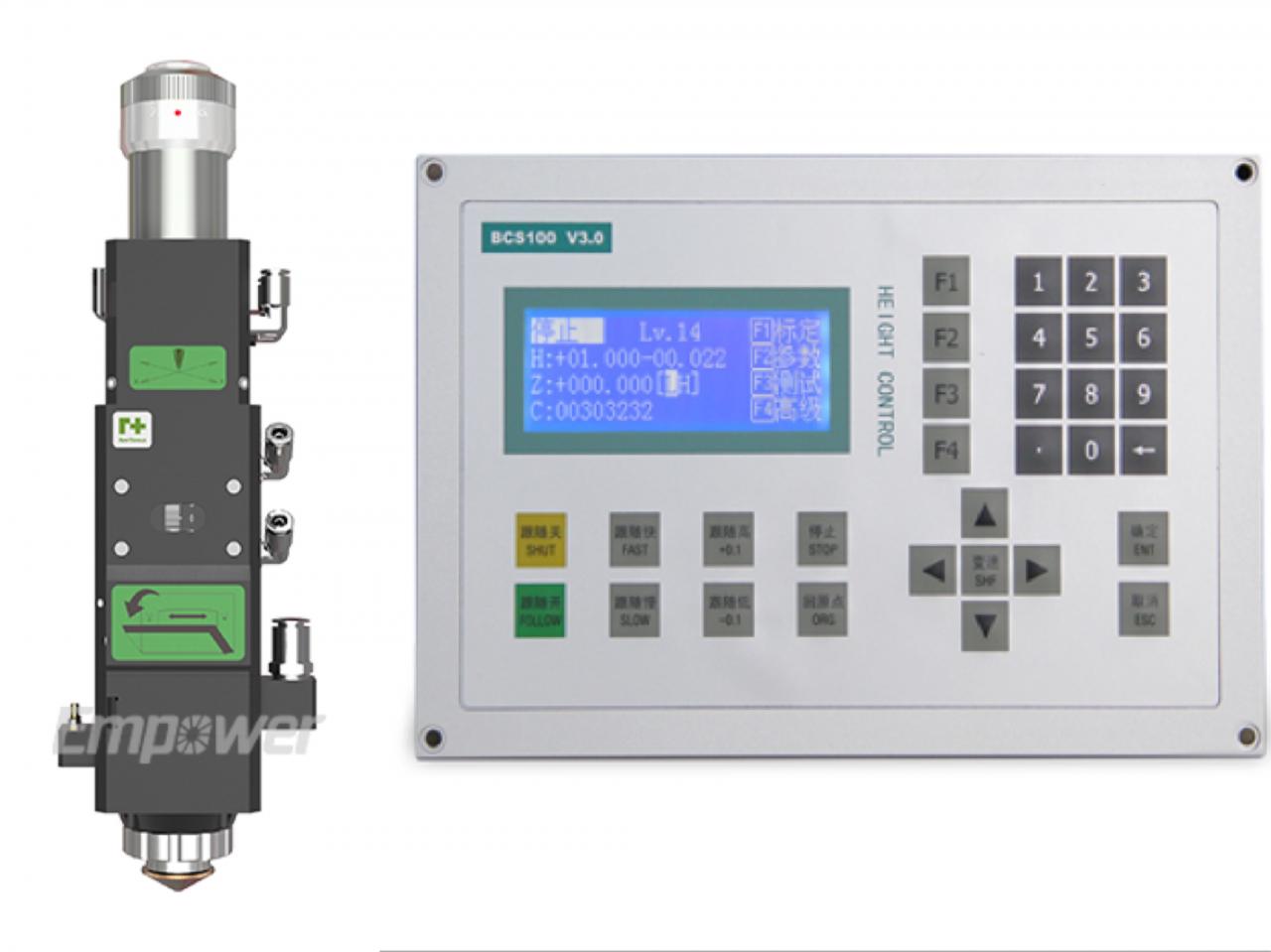 Cutting head and height controller
• Available with capacitive height sensing.
• Temperature sensors protect optics and minimize the chance of overheating.
• 10mm of lens movement to set focus.
• Quick and easy access to cover glass.
• Flexible design to optimize spot size.
• Smooth assist gas flow.
• Compact, Lightweight design.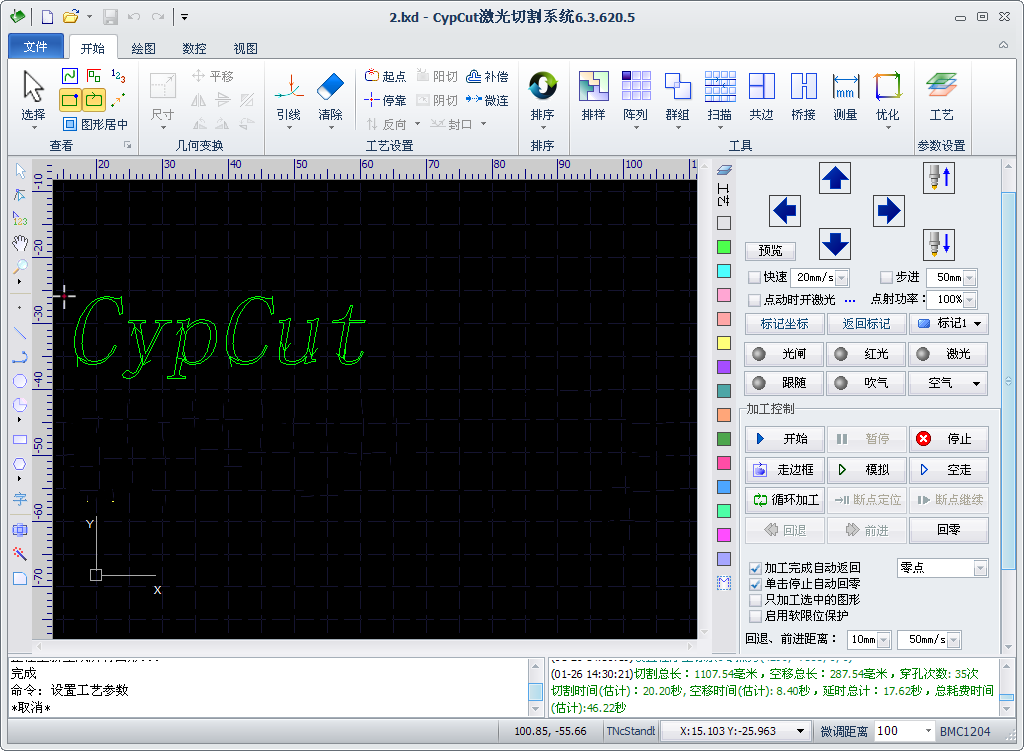 Cypcut cutting system
• Auto Height adjustment
• Software protection
• Laser beam power control
• Sudden shut down point resume function
• Frog jump and Auto edge positioning function
• Real time response to avoid signal lag that causing round edge
Specification
Main Components list
No.
Component Name
Manufacturer--Origin Place
1
Machine Tool
Plate welding machine tool--Dahan
2
Machine Beam
Aluminum beam--Dahan
3
Fiber Laser source
Raycus/Max 1000W--China
4
Laser Head
Raytools-- China
5
Cutting System
Cypcut -- China
6
Servo Motor & Driver
Schneider -- France
7
Speed Reducer
Shimpo -- Japan
8
Guide Rails
Hiwin -- Taiwan
9
Rack & Pinion
YYC from Taiwan
10
Proportional Valve
SMC --Japan
11
Chiller
Hanli -- China
Specifications
Laser power
1000W
Cutting area(mm)(L×W)
3000mm×1500mm
Max cutting speed(m/min)
120 m/min
Max Accelerated
1.5G
Positioning accuracy
±0.03mmmm
Repeatability accuracy
±0.02mm
Min line width
0.15mm
Max Cutting depth (Mild Steel)
12mm
Stainless Steel N2
5mm
Aluminum
3mm
Driving Way
Imported servo motor
Tranmission Way
Imported gear rack & pinion double driver
Electrical Requirements
380V/50Hz.60Amp
Power Consumption
12KW
Work Piece Weight
800kg
Weight
5500kg
Outline size(mm)
4800mm×2700mm×1900mm (L×W×H)
Outline size with pallet changer(mm)
8400mm×3000mm×2100mm (L×W×H)
Advantages & Applications
ADVANTAGES:
1, Cost saving on power consumption/ only 20-30% of co2 laser cutting machine under same power.
2, Flexibility and precision cutting of simple or complex parts
3, Adopts imported world brand fiber laser/Life time over 100,000hrs
4, Imported servo motor and gearing system ensure precision cutting
5, High quality cut with no extra finishing required
6, Higher cutting speed and efficient, speed of cutting plate over 10 meters per minute
7, Non contact cut which means no marks or contamination of the material
8, Ability to cut virtually any sheet metal
APPLICATIONS:
APPLICABLE MATERIALS: Stainless steel, carbon steel, alloy steel, silicon steel, spring steel, aluminum, aluminum alloy, galvanized sheet and other metal pipes and tubes.
APPLICABLE INDUSTRY: It is widely applied in industrial pipeline processing, explosion-proof equipment, military industry, chemical industry, oil exploration, lamps and lanterns, metal processing, ironware, building, etc.
Our Service&Advantages
Our Service
1. Two years warranty for this fiber laser machine and fiber laser parts ;One year warranty for other machine and parts.
2. 24 hours professional online technical support.
3. Skilled engineer will help customer to solve the problem by TM ,Whatsapp in time when problem happen.
4. Free software update.
5. Lifelong maintenance and spare parts supply.
Our Advantages
1. Alibaba Authentication Enterprise
2. 12Years Export Experience
3. 20Years Manufacture Experience
4. OEM&ODM Service
5. 24Hours Online Service
6. Dealer network all over the world
Details
Application: LASER CUTTING
Applicable Material: Metal
Condition: New
Laser Type: Fiber Laser
Cutting Area: 3000*1500mm
Cutting Speed: 120m/min
Graphic Format Supported: DXF
Cutting Thickness: 1-10mm
CNC or Not: Yes
Cooling Mode: WATER COOLING
Control Software: Cypcut
Laser Source Brand: Raycus/IPG/Max
Laser Head Brand: Raytools/Precitec
Servo Motor Brand: Yaskawa
Guiderail Brand: HIWIN
Control System Brand: Cypcut
Weight (KG): 5500 KG
Key Selling Points: Long Service Life
Optical Lens Brand: Raytools
Warranty: 1 Year
Applicable Industries: Manufacturing Plant, Sheet metal processing
Machinery Test Report: Provided
Video outgoing-inspection: Provided
Warranty of core components: 2 years
Core Components: laser source
Max cutting speed(m/min): 120 m/min
Max Accelerated: 1.5G
Positioning accuracy: ±0.03mmmm
Repeatability accuracy: ±0.02mm
Min line width: 0.15mm
Max Cutting depth (Mild Steel): 12mm
Stainless Steel N2: 5mm
Aluminum: 3mm
Electrical Requirements: 380V/50Hz.60Amp
Outline size with pallet changer(mm): 8400mm*3000mm*2100mm (L*W*H)
Certification: Sgs
After-sales Service Provided: Online support, Free spare parts, Video technical support
After Warranty Service: Video technical support, No service, Online support, Spare parts, Field maintenance and repair service