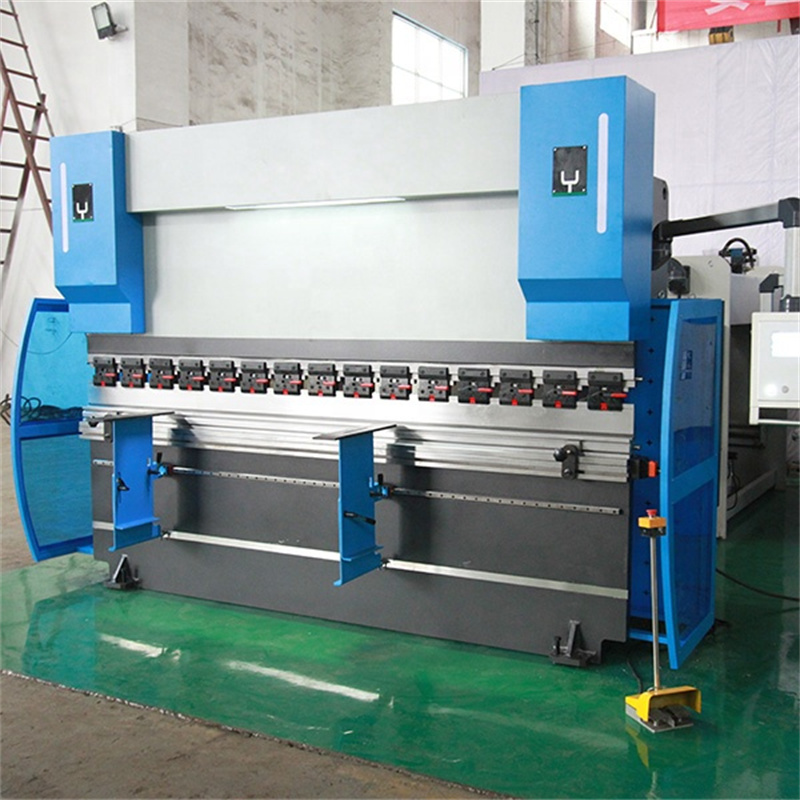 Machine Features
1. The frame is steel structure, left and right vertical plate, table and pressure plate welded into a unitary structure, after welding to eliminate internal stress by tempering, exceptional rigidity, high stability.
2. Important parts of the frame, sliders, etc. are used ANSYS finite element analysis software to ensure machine reliability.
3. Hydraulic drive, cylinder on both end of machine, disposed on the slider to drive it work directly.
4. Torsion axis synchronization for slide synchronous mechanism.
5. Adopt a mechanical stopper mechanism, stable and reliable.
6. Back Gauge size and slide stroke controlled by CNC system, back gauge with high precision ball screw, stable operation and precise positioning.
7. The controller system adopts frequency conversion control technology, with multi-step programming function, simple and easy to operate.
8. Inclined wedge deflection on the compensation mechanism, in order to guarantee access to high bending accuracy
9. Safety barrier device all around the machinery, electrical cabinets equipped with Open door cut-off function, emergency stop button around front and back, protective cover foot switch to ensure safe working.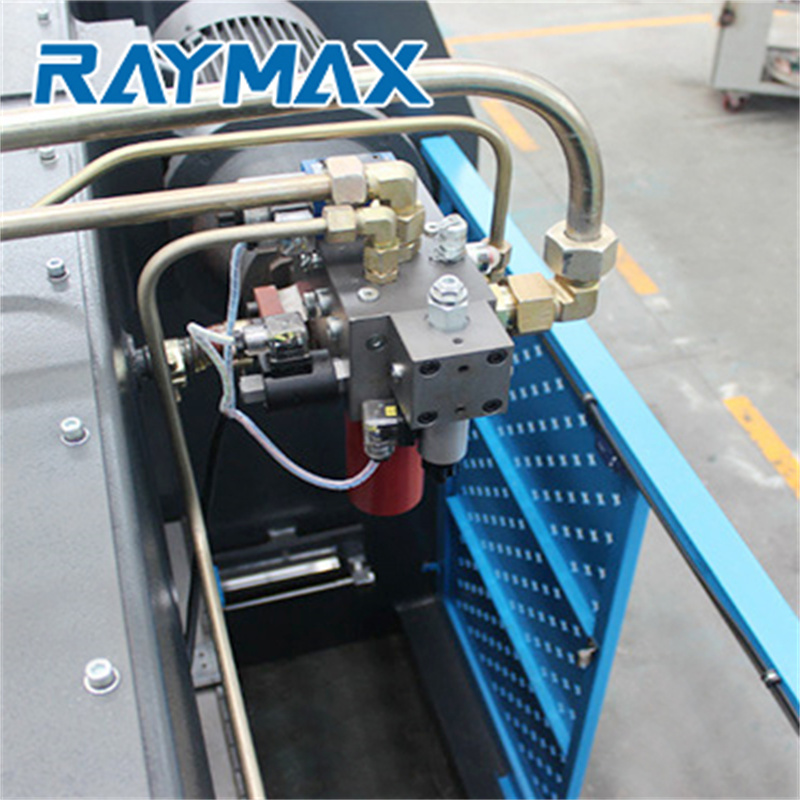 E21 controller system (Standard NCcontroller system )
1)backgauge and block control
2)control for general AC motor ,frequency inverter
3)Intelligent positioning
4)Stock counter
5)Program memory of up to 40 programs & up to 25 steps per program
6)One side positioning
7)Retract function
8)One key back /restore of programs
9)Mm/inch / Chinese /English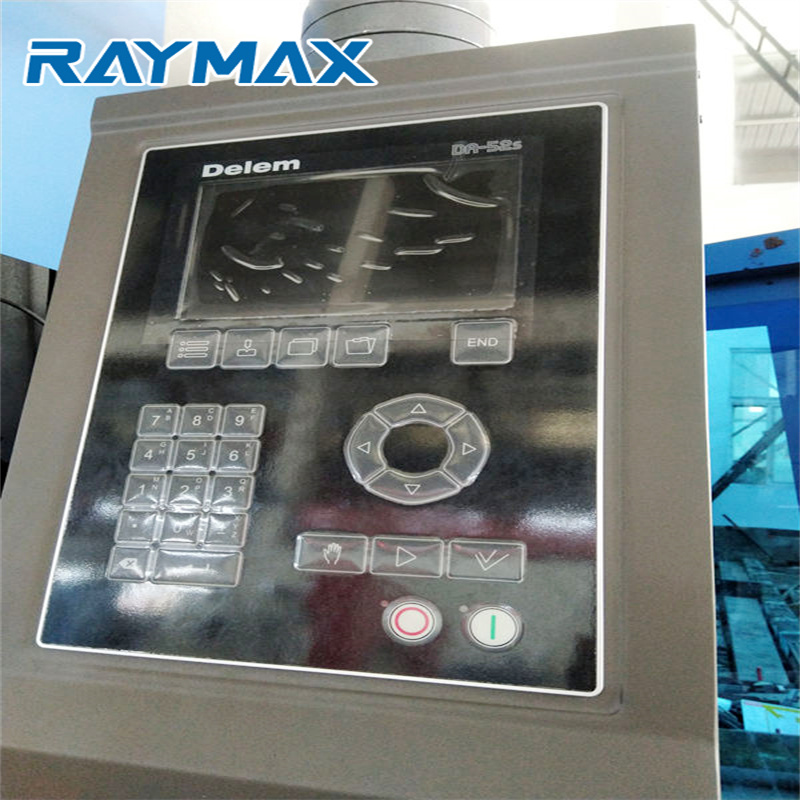 Machine Parameters
   Main Parameters
 Model
Bending Force
Bending Length
Upright Distance
Throat Depth
Stroke
Opening Height
Overall Dimensions
Kn
mm
mm
mm
mm
mm
L×W×H mm
WC67K/E-30t/1600
300
1600
1300
200
80
220
1650*1200*1700
WC67K/E-30t/2000
300
2000
1300
200
80
220
2000*1150*1700
WC67K/E-40t/2500
400
2500
2030
250
100
340
2500*1200*1900
WC67K/E-63t/2500
630
2500
2050
250
120
340
2500*1600*2200
WC67K/E-63t/3200
630
3200
2510
250
120
340
3200*1600*2200
WC67K/E-80t/2500
800
2500
2050
250
120
350
2500*1700*2200
WC67K/E-80t/3200
800
3200
2510
250
120
350
3200*1700*2200
WC67K/E-100t/2500
1000
2500
2050
320
120
380
2500*1500*2200
WC67K/E-100t/3200
1000
3200
2510
320
120
380
3200*1800*2500
WC67K/E-100t/4000
1000
4000
3100
320
120
380
4000*1800*2500
WC67K/E-125t/3200
1250
3200
2510
320
120
380
3200*1900*2600
WC67K/E-125t/4000
1250
4000
3100
320
120
380
4000*1435*2600
WC67K/E-160t/2500
1600
2500
2050
320
200
450
2500*1900*2700
WC67K/E-160t/3200
1600
3200
2510
320
200
450
3200*2000*2800
WC67K/E-160t/4000
1600
4000
3040
320
200
450
4000*2000*2800
WC67K/E-160t/5000
1600
5000
3800
320
200
450
5000*1900*3100
WC67K/E-160t/6000
1600
6000
4600
320
200
450
6000*1900*3300
WC67K/E-200T/3200
2000
3200
2600
320
250
540
3200*1820*3300
WC67K/E-200T/4000
2000
4000
3300
320
250
540
4000*2000*2850
WC67K/E-200T/5000
2000
5000
3800
320
250
540
5000*1950*3000
WC67K/E-200T/6000
2000
6000
4600
320
250
540
6000*1950*3300
WC67K/E-250T/3200
2500
3200
2600
400
250
580
3300*2000*3200
WC67K/E-250T/4000
2500
4000
3300
400
250
580
4000*2000*3400
WC67K/E-250T/5000
2500
5000
3800
400
250
580
5000*2000*3500
WC67K/E-250T/6000
2500
6000
4600
400
250
580
6000*2000*3600
WC67K/E-300T/3200
3000
3200
2600
400
250
580
3200*2100*3300
Details
Slider Stroke (mm): 100 mm
Automatic Level: Semi-automatic
Throat Depth (mm): 250 mm
Machine Type: Torsion Bar
Length of Working Table (mm): 2500
Width of Working Table (mm): 1450 mm
Dimension: 2550*1450*2300, 2550*1450*2300 mm
Condition: New
Place of Origin: Anhui
Material / Metal Processed: Brass / Copper, Stainless Steel, ALLOY, Carbon steel, Aluminum
Automation: Automatic
Extra Services: round bending
Year: 2020
Weight (KG): 4300
Motor Power (kw): 7.5 kw
Key Selling Points: Competitive Price
Warranty: 3 years
Applicable Industries: Building Material Shops, Machinery Repair Shops, Manufacturing Plant, Retail, Construction works , Advertising Company, Other
Showroom Location: Uzbekistan, Australia
Marketing Type: New Product 2020
Machinery Test Report: Provided
Video outgoing-inspection: Provided
Warranty of core components: 1 Year
Core Components: Motor, Pump
model: WC67K-80T/2500
Cutting material: aluminum sheet ,mild steel ,carbon steel,stainless steel
Bending thickness: MS 4mm / SS 2 mm
Bending Length: 2500 mm
Nominal pressure: 800KN
Poles distance: 2500mm
Slider travel: 100 mm
Max open: 340 mm
Power: 7.5 KW
Certification: CE
After-sales Service Provided: Free spare parts, Field installation, commissioning and training, Field maintenance and repair service, Video technical support, Online support
After Warranty Service: Video technical support, Online support, Spare parts, Field maintenance and repair service