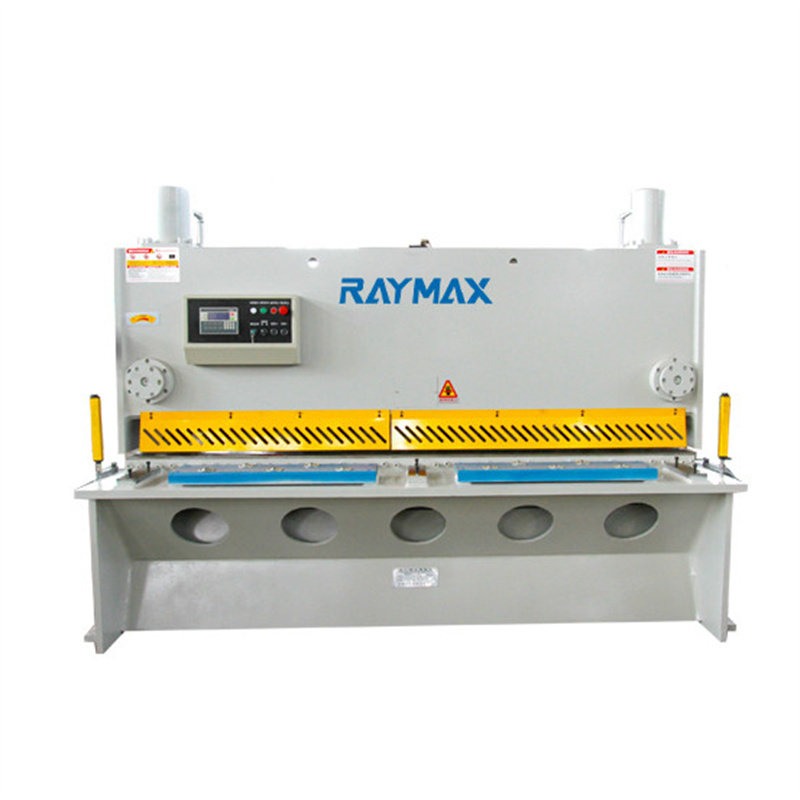 Products Description
CNC hydraulic guillotine shearing Machine
1. The all-steel welded structure of the second generation of hydraulic shear adopts heat treatment to eliminate.
2. Internal stress, and has good rigidity and stability Advanced integrated hydraulic system, good reliability.
3. Three-point support rolling guide, to eliminate bearing clearance, and improve shearing quality.
4. Blade clearances are adjusted by motor, rapid, accurate and convenient.
5. Rectangular blades; all four cutting edges are usable; long life.
6. Adjustable shearing angles, to reduce deformation of plates.
7. Upper tool rest adopts the introversion structure, to facilitate blanking, and improve the accuracy of the workpiece.
8. Sectional shearing function, and light alignment function.
9. Mechanical rear stoppers, digital display.
10. Back carrier ( or choose other configurations).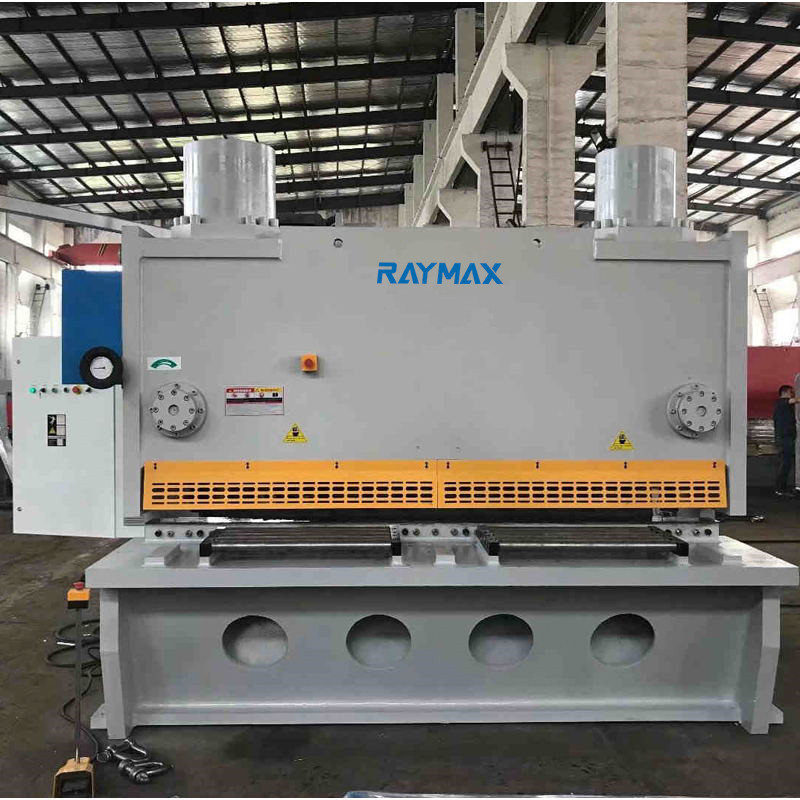 Model
Shearing thicknessmm
Shearing width
mm
Strokes
mm¯¹
Backgauge range
mm
Height of working table
( º )
Main power
kw
QC11Y/K-6×2500
6
2500
8~16
20-600
30'~1º30
7.5
QC11Y/K-6×3200
6
3200
8~16
20-600
30'~1º30
7.5
QC11Y/K-6×4000
6
4000
8~16
20-600
30'~1º30
7.5
QC11Y/K-6×6000
6
6000
8~16
20-600
30'~1º30
11
QC11Y/K-8×2500
8
2500
8~16
20-600
30'~1º45
7.5
QC11Y/K-8×3200
8
3200
8~16
20-600
30'~1º45
7.5
QC11Y/K-8×4000
8
4000
8~16
20-600
30'~1º45
7.5
QC11Y/K-8×6000
8
6000
8~16
20-800
30'~2º
15
QC11Y/K-12×2500
12
2500
8~12
20-800
30'~2º
15
QC11Y/K-12×3200
12
3200
8~12
20-800
30'~2º
15
QC11Y/K-12×4000
12
4000
8~12
20-800
30'~2º
15
QC11Y/K-12×6000
12
6000
8~12
20-800
30'~2º
30
QC11Y/K-16×2500
16
2500
8~12
20-800
30'~2º30
18.5
QC11Y/K-16×3200
16
3200
7~10
20-800
30'~2º30
18.5
QC11Y/K-16×4000
16
4000
7~10
20-800
30'~2º30
22
QC11Y/K-16×6000
16
6000
7~10
20-1000
30'~2º30
37
QC11Y/K-20×2500
20
2500
7~10
20-800
1º30'~3º
30
QC11Y/K-20×3200
20
3200
6~10
20-800
1º30'~3º
30
QC11Y/K-20×4000
20
4000
6~10
20-800
1º30'~3º
30
QC11Y/K-20×6000
20
6000
6~9
20-1000
1º30'~3º
37
QC11Y/K-25×2500
25
2500
6~9
20-800
1º30'~3º30
37
QC11Y/K-25×3200
25
3200
6~9
20-800
1º30'~3º30
37
QC11Y/K-25×4000
25
4000
6~8
20-1000
1º30'~3º30
37
QC11Y/K-25×6000
25
6000
6~8
20-1000
1º30'~4º
55
QC11Y/K-32×2500
32
2500
6~8
20-1000
1º30'~4º
55
QC11Y/K-32×3200
32
3200
6~8
20-1000
1º30'~4º
55
QC11Y/K-32×6000
32
6000
4~6
20-1000
1º30'~4º
55
QC11Y/K-40×2500
40
2500
4~6
20-1000
1º30'~4º
55
QC11Y/K-40×3200
40
3200
4~6
20-1000
1º30'~4º
55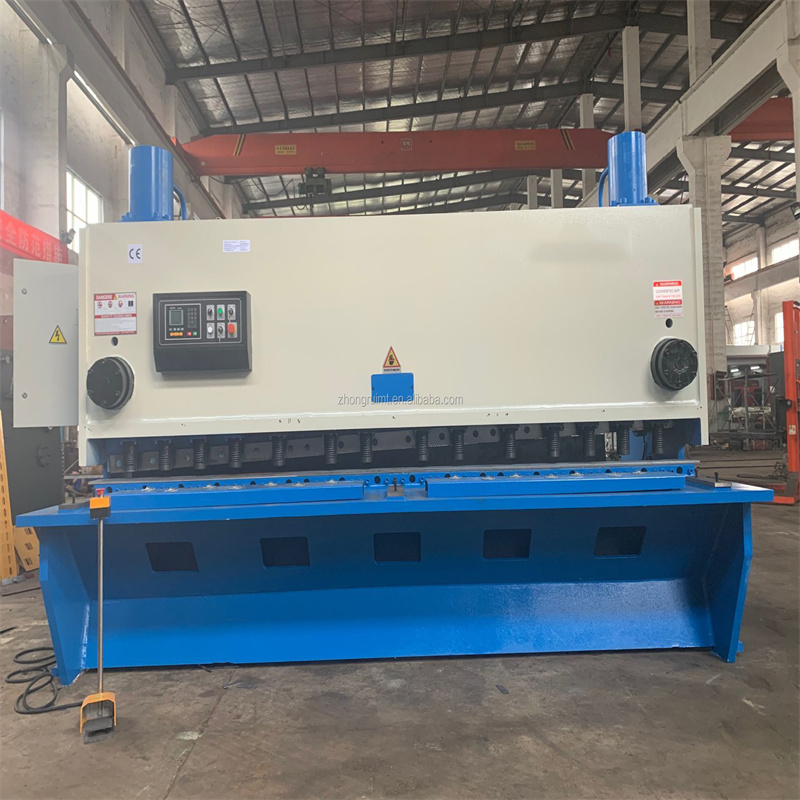 Details
Max. Cutting Width (mm): 1300
Max. Cutting Thickness (mm): 12 mm
Automatic Level: Fully Automatic
Shearing Angle: 0.5°-2°
Blade Length (mm): 2500 mm
Backgauge Travel (mm): 10 - 800 mm
Throat Depth (mm): 80 mm
Condition: New
Brand Name: RAYMAX
Power (kW): 15 kW
Weight (KG): 6000 KG
Voltage: 380V
Dimension(L*W*H): 3140*1850*1900
Warranty: 1 Year
Key Selling Points: Automatic
Applicable Industries: Building Material Shops, Machinery Repair Shops, Manufacturing Plant, Construction works
Showroom Location: Pakistan, India, Kenya
Marketing Type: Ordinary Product
Machinery Test Report: Provided
Video outgoing-inspection: Provided
Warranty of core components: 2 years
Core Components: Motor, PLC