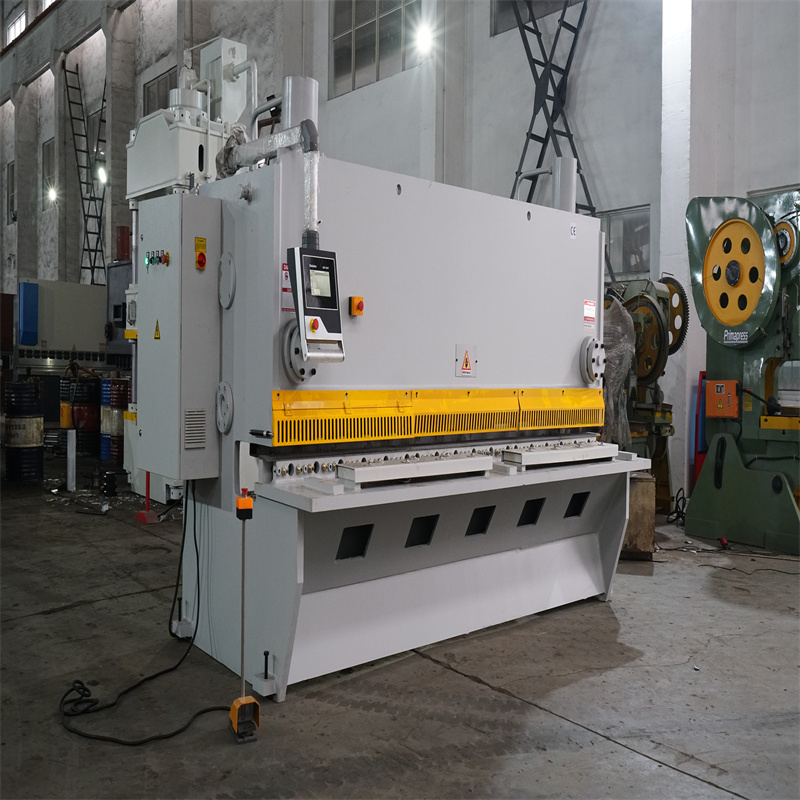 Product Description
The frame structure of the shearing machine adopts all-steel welding; the four-corner and eight-sided right-angle guide rails have high precision, good rigidity and hydraulic preloading. The hydraulic system adopts two-way plug-in integrated valve, and can be equipped with stroke digital display, photoelectric protection device and mobile workbench. The shearing machine has double-action function of upper slider and lower hydraulic pad, and the working pressure stroke can be pressed within the specified range. The process requires adjustment, and the operation is simple and centralized using buttons.Machine performance characteristics
1. The shearing machine adopts the overall welded frame structure and is subjected to vibration aging treatment. The machine tool has good rigidity, high precision and good precision retention.
2. The shearing machine adopts a three-point support shaft rolling guide rail. The upper tool holder performs rolling without gaps between the rolling guide rails, and the handwheel can be rotated to adjust the service life of the blade.
3, movable blade support and four-blade long blade, easy to adjust the blade gap uniformity, improve the cutting quality and extend the blade life.
4. The shearing machine adopts the serial type cylinder synchronous system. The machine is evenly stressed. By adjusting the flow of the series cylinder, the shear angle can be easily adjusted to meet the needs of different shearing plates.
5. The shearing machine adopts a motorized back gauge device and an electronic counter to facilitate adjustment of the position of the back gauge.  Details Images

Optional Controller
ESTUN E21 Shihlin Converter
E21 Shihlin converter control via bus communication, wiring is simple, performance is good, back gauge can be positioned rapidly and accurately. Time relay and shear angle are built in, partial logic function is realized. It is featured with low cost and high efficiency.
Super stability and long service life.

ESTUN E200PS ,China
The E200PS with Color HD LCD display,  both Chinese and English language options, a display programming parameters, faster and more convenient programming. CAN bus technology, servo control X, A-axis, high control accuracy, resolution up to 0.001; simple to install wiring, improve system reliability.
Built blade clearance, cutting stroke, concessions and other control functions delay, according to the actual need to set the parameters of the gap, cut away concessions and other real-time control.
With self-diagnosis and real-time alarm functions, debugging and maintenance more convenient.Reservation security interface for easy expansion.


Delem DAC-360s ,Netherlands
The DAC-360 control provides a complete solution for shearing machines. It includes the control of backgauge, cutting angle,stroke length and gap, based on state of the art electronics.
Beside backgauge control, the DAC-360 automatically calculates the required setting for the cutting angle and gap depending on material properties and thickness. The stroke length is limited for minimal production time and related to the material length to cut.Full pressure control for clamping and cutting is on board the DAC-360.
With its bright LCD screen a clear and easy operation is offered. The numerical programming is user-friendly and guides the operator through the programming possibilities.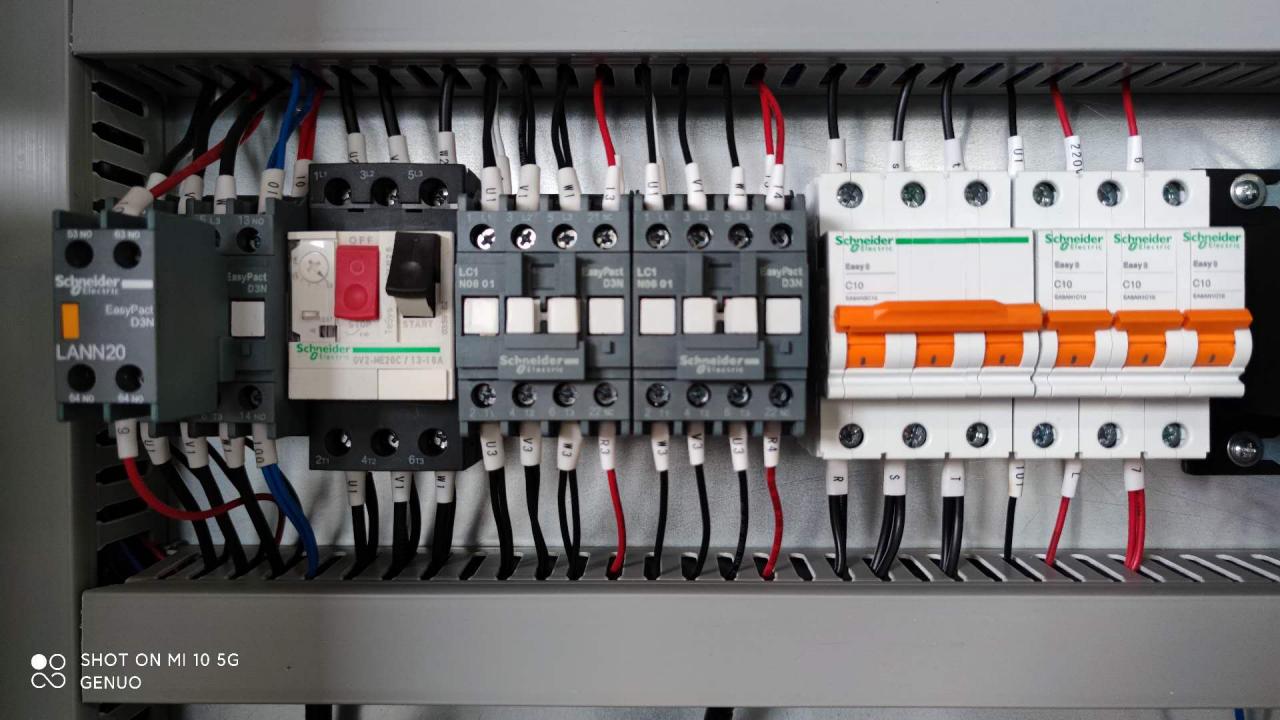 Stable Electrical
CabinetDurable France Schneider electrics ensure the stable operation of the machine.Reasonable line connection and arrangement greatly reduces the failure rate. And the operator and all parts of the machine played a good protection.Optional Servo and drive to improve the positioning accuracy of back-guage (X)Axis.
Superior Hydraulic System
Integrated hydraulic system, quick response. The low failure rate makes the machine run safely, efficiently and stably.The whole series of standard is equipped with galvanized cold drawn pipe and German ferrule type pipe joint. Reduce the risk of oil leakage by 50% compared with rubber and welded seamless tubing. And in can be longer service life.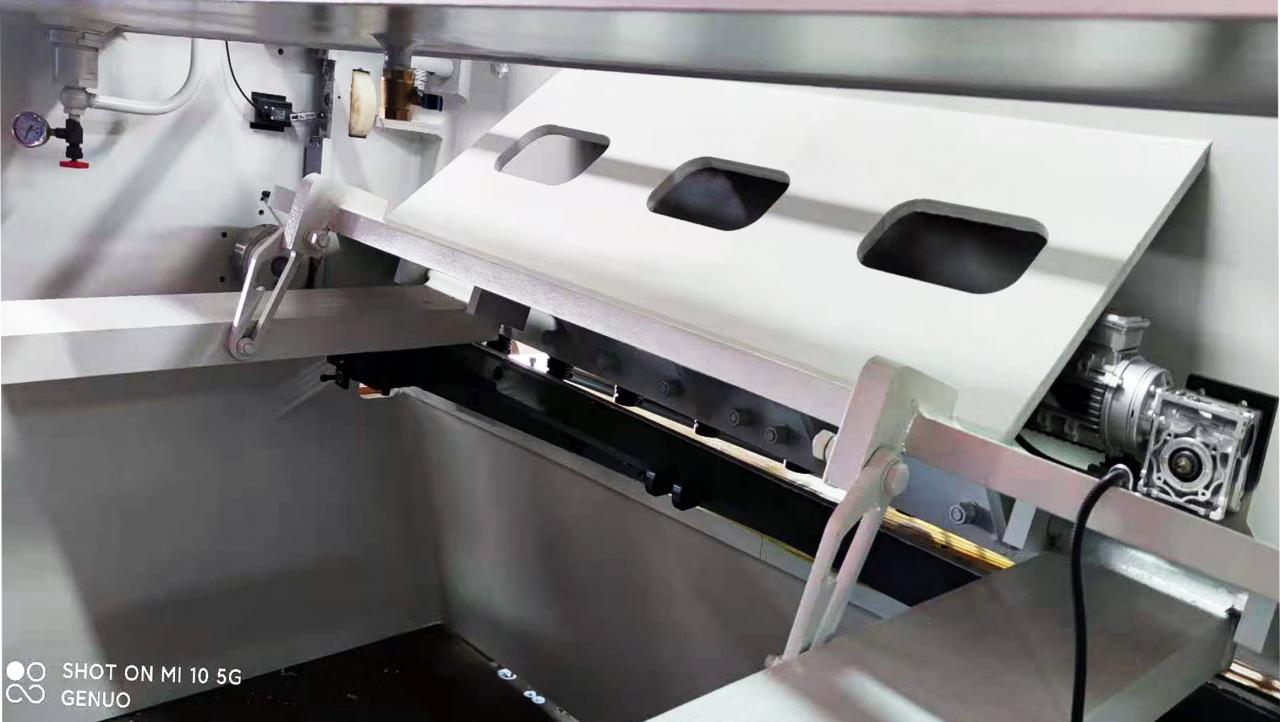 High Precision Back-Gauge
The unique and novel ball screw linear guide structure back-gauge ensures high positioning accuracy. Adjustable beam guiding rule and synchronous transmission structure, stable and reliable.Optional lifting mechanism structure to cut the work piece out of back gauge range.When cutting thin and wide metal plates, pneumatic support device can be selected. Increased positioning range makes cutting more efficient and accurate.
Low Noise Power System
Using Germany Siemens main motor and USA SUNNY gear oil pump guarantee the machine service life and improve the machine working stability. At the same time, the special coupling device also greatly reduces the noise of the machine in the process of running.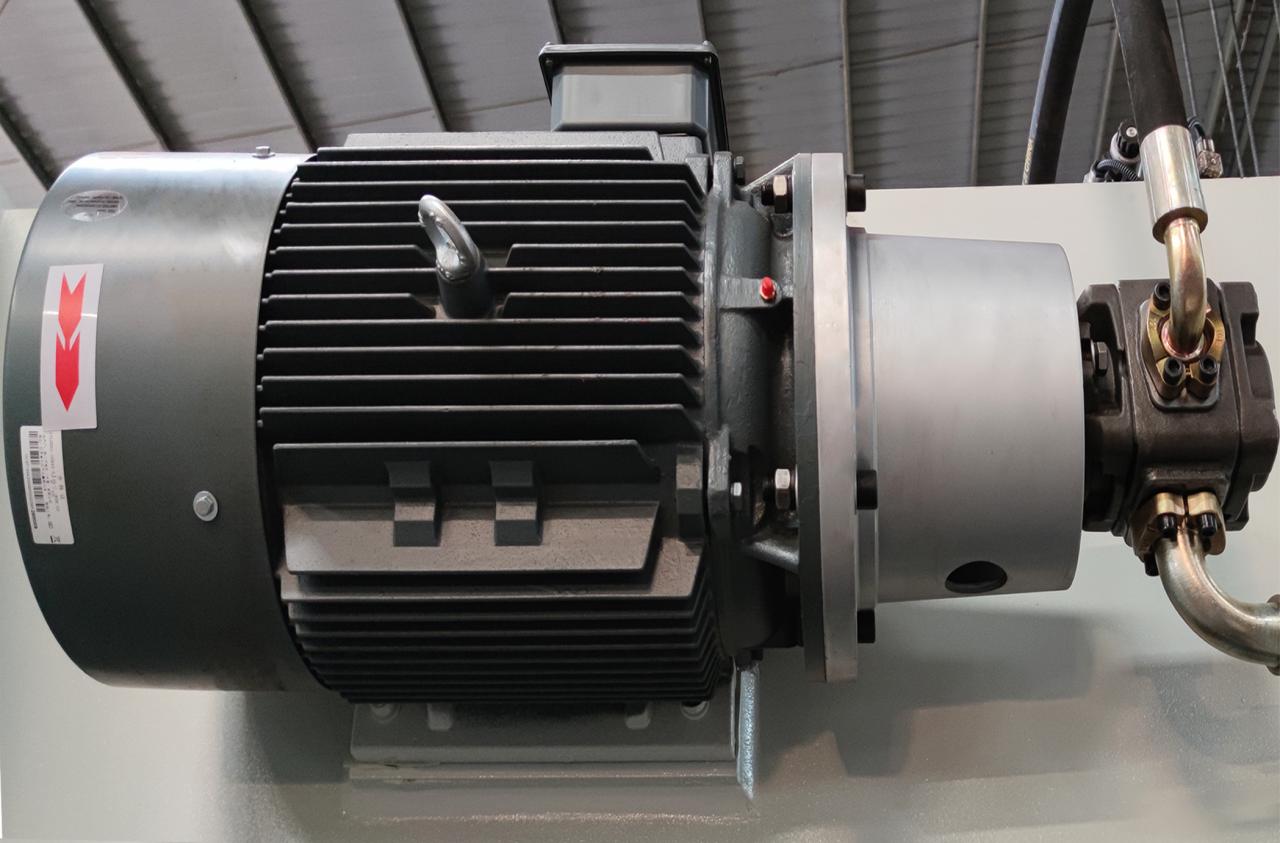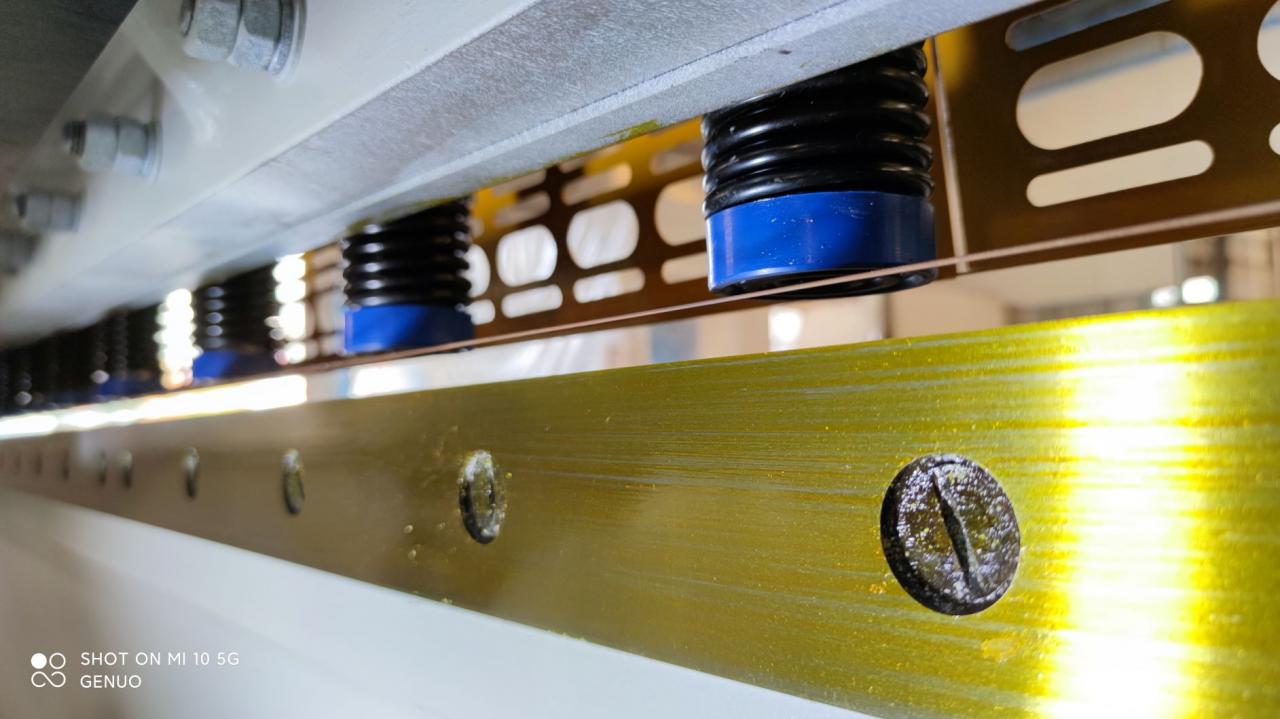 OS Down-Holder Cylinder
Unique structure of hold down cylinder adopt outernal spring.Where the lower part with special material gaskets,to avoid leaving trace line on the aluminum alloy or other sensitive material.Durability and stability have been enhanced.Built in patented return damping rubber pad and NOK seal ring, reducing noise and oil leakage fault compared with traditional down-holder cylinder.Lighting alignment device ,helpful to mark out by hand for shearing.optional.
Good Quality Blades
Made using good quality alloy tool steel to meet shear impact loading and high abrasion resistance requirement.The machine is equipped with 9CrSi, 6CrW2Si and SKD-11 all steel shear blade.When cutting special metal plate, H13, DC53 material blade are optional to ensure more stable and good shearing effect.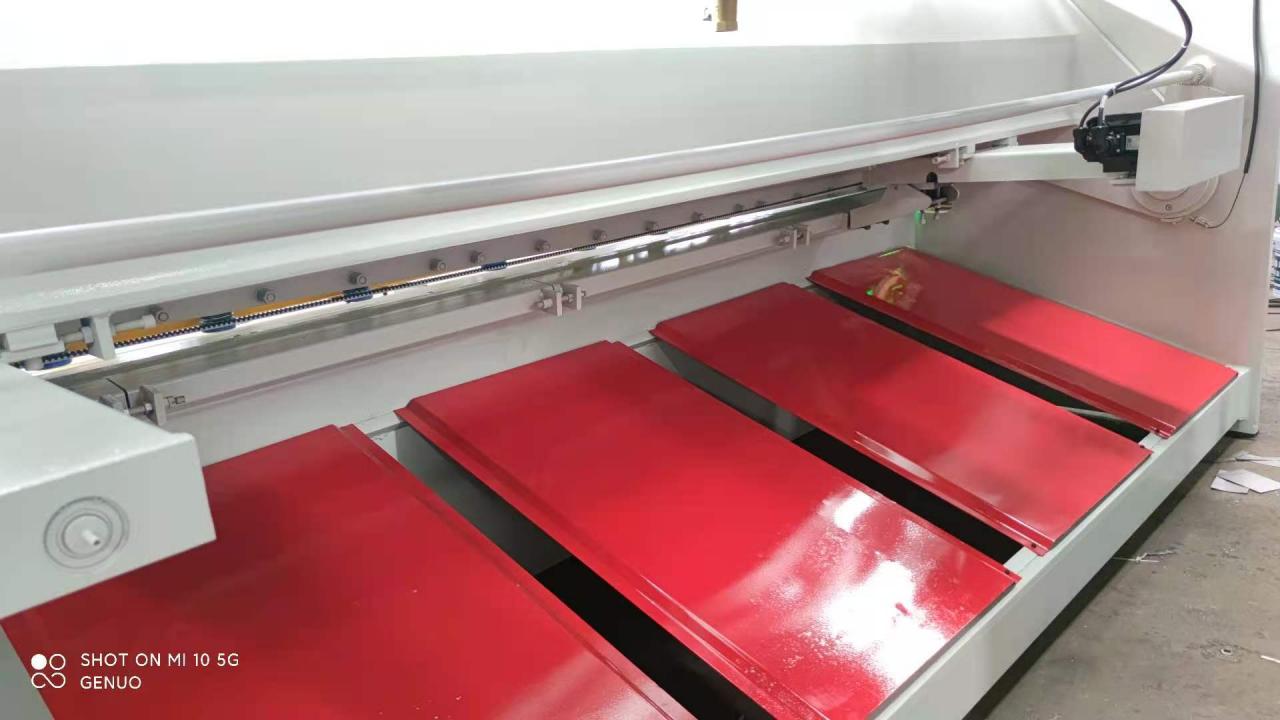 Optional Installation
Inclined Slide Plate and
Pneumatic Support Device
Light Curtain
Oil Fan Cooling Unit
Laser Protection
Front Automatic Feeding
| | | | | | | | | |
| --- | --- | --- | --- | --- | --- | --- | --- | --- |
| TypeQC11K(Y) | Cutting Thickness | Cutting Length | Cutting angel | Backgauge Range | Stockes(n/min) | Main Power | Weight(kg) | Dimension L*W*H(m) |
| 8/2500 | 1~8 mm | 2500mm | 0.5-2° | 10-600 mm | 14 | 11kw | 4800 | 3.1*1.8*2.1 |
| 8/3200 | 1~8 mm | 3200mm | 0.5-2° | 10-600 mm | 12 | 11kw | 6000 | 3.8*1.8*2.1 |
| 8/4000 | 1~8 mm | 4000mm | 0.5-2° | 10-600 mm | 10 | 11kw | 8900 | 4.6*1.8*2.1 |
| 8/5000 | 1~8 mm | 5000mm | 0.5-2° | 10-600 mm | 8 | 11kw | 11500 | 5.7*1.9*2.2 |
| 8/6000 | 1~8 mm | 6000mm | 0.5-2° | 10-600 mm | 6 | 11kw | 16000 | 6.7*1.9*2.2 |
FAQ
Q1. How about your machine quality?
A1: Our machines distribute worldwide to about 50 counties where there are metal plate ind ustry ,there are Brilliant machines And where there are our machines,there are good reputation and terminal user satisfaction.
Q2: You are the manufacturer or trading comparly?
A2: We are the 100% manufacturer with more than 20 years manufacturing experience.
Q3. How about your after-sale service?
A3: 1. Technical solutions: we can provide technical solutions within one day.
2. Online video: Show you machine working video in factory . ( update every week)
3. Installation service: This is available with all of our machines,live video can be provided. We can also dispatch technician to customer's factory for installation machines. (Customers only need to pay for the airfare and hotel expense.)
4. Training service: Our technician will teach you how to use our machines. As well, you may send your technician to our company to learn how to operate machines.
5. Quality guarantee: 1 year warranty, we provide lifetime service. We arrange final test before shipment, After making sure machine is the best performance, then make shipments.
6. 100% response rate: we will reply your questions within 12 hours.
Details
Place of Origin: Anhui, China
Brand Name: RAYMAX
Condition: New
Type: Shearing Machines
Video outgoing-inspection: Provided
Machinery Test Report: Provided
Marketing Type: Super quality
Warranty of core components: 1 Year
Core Components: PLC, Engine, Bearing, Gearbox, Motor, Pressure vessel, Gear, Pump
Voltage: 220/380/415, 220v/240V/380V/400V/415V
Rated Power: 11
Dimension(L*W*H): 4600*1800*2050
Year: 2020
Warranty: 1 Year
Key Selling Points: Competitive Price
Applicable Industries: Hotels, Garment Shops, Building Material Shops, Machinery Repair Shops, Food & Beverage Factory, Farms, Restaurant, Home Use, Retail, Printing Shops, Construction works , Energy & Mining, Advertising Company
Showroom Location: Egypt, United Kingdom, United States, Italy, Philippines, Pakistan, Russia, Australia
Machine type: Guillotine Cutting Machine
Brand: RAYMAX
Application: Metal Sheet Cutting
Cutting thickness: 1-8mm
Cutting Angle: 0.5-1.5°
Controller: E21S,E200PS,DAC360
Packaging: Polyethylene winding film
Color: Customer Selected
After-sales Service Provided: Free spare parts, Field installation, commissioning and training, Field maintenance and repair service, Online support, Video technical support
After Warranty Service: Video technical support, Online support, Spare parts, Field maintenance and repair service
Local Service Location: Egypt, United Kingdom, United States, Italy, Philippines, Pakistan, India, Australia
Certification: CE ISO
Weight: 8500kg