Products Description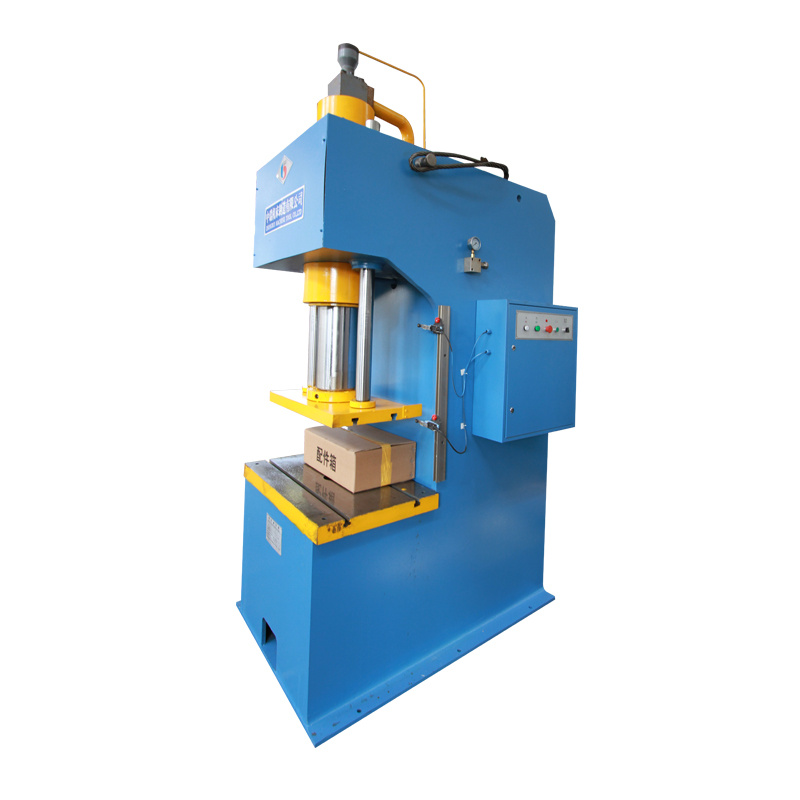 CNC hydraulic press is a replacement product of mechanical punching machine, which combines the advantages of punching machine and single column hydraulic press. Can be punched, cut, pressed, can also do stretching, molding.
The real realization of a machine multi-purpose.
CNC hydraulic press adopts plc centralized control, full touch screen operation. Manual and automatic free control, machine running more stable, low noise, high accuracy. The risk factor is 0.
If equipped with automatic feeding without manual operation, the real realization of one-person multi-machine operation.
All equipment techniques are programmed, stroke, speed, stretching, no manual adjustment.
Applicable to:
Car metallurgy aviation ship daily hardware household appliances building materials LED lamp screen punching mark Ancillary functions, count display, stroke display, time display, fault display
Action sequence: Use of ordinary punch
Fast Down -- Pressurizing Blanking -- Fast Backhaul -- Return Far--General Press --Fast Down - Fast Slow - Start Repression - Hold - Fast Return - Restore
Main Structure and Functions:
The hydraulic press consists of main engine, hydraulic system, electrical control system and auxiliary parts.
1. Host
The main part consists of fuselage, main cylinder, air cooling and limiting device.
2. Fuselage
Fuselage structure adopts Q235 high quality steel plate welding structure, after welding, annealing treatment is used to eliminate internal stress, and shot blasting is carried out. Slider and table pad have T groove, can use T groove bolt, in order to install the mold (T groove and center distance size to be confirmed by the customer).
Slider, workbench slider, worktable is cast by high quality casting, then keep 200 for de-stress treatment, the slider is placed in the middle of the fuselage, its upper plane is connected with the main cylinder; the lower plane of the slider is machined with T groove to fix the die; the slider adopts rectangular guide rail to ensure the slider guidance accuracy, good rigidity precision retention. The slider has good rigidity and can meet the requirement of fixed range pressing.
3. Main cylinders
The main cylinder of this machine is piston cylinder, the cylinder is connected with slider, the cylinder is installed on the frame, the cylinder is locked by the cylinder lock mother, the piston rod surface is wear-resistant, the cylinder is sealed with imported seal, the service life is long, The sealing performance is reliable.
4. Hydraulic system
Hydraulic system is a device to produce and distribute working oil, and make the main engine realize various actions. The fuel tank is a steel plate welding piece and adopts a closed structure. The box is equipped with a filter, the wall of the box has a window hole to clean the tank; there is a liquid level meter, the tank is equipped with an integrated body, oil pump motor set, etc. Main hydraulic components used in hydraulic system
5. Oil Pump Motor Unit
A 4-stage motor is used to drive a YCY14-1B axial piston pump through the coupling to provide pressure oil for the hydraulic system.
The main oil pump adopts the domestic constant power axial piston pump. The biggest characteristic of the pump is that with the increase of system pressure, the flow rate decreases directly, the power remains unchanged, and the energy is saved effectively.
6. Hydraulic Integrated Control Valve
The hydraulic integrated control valve adopts the centralized control of domestic two-way plug valve, which has the functions of regulating pressure, reversing, keeping pressure, unloading, supporting, fast and slow conversion, overpressure protection and so on. A two-stage anti-slider drop device and a safety valve are arranged on the control block of the main cylinder. When the slider stops at any position, the device automatically closes to ensure the reliability and safety of the slider. Bypass safety valve timely oil discharge to avoid safety accidents.
7. Filling valve
The filling valve is installed at the top of the main cylinder. When the slider relies on self-weight to descend quickly, the pump oil can not supply the main cylinder upper cavity in time. When the slider returns, the control fluid first opens the pre-leakage valve core, then opens the main valve, so that the main cylinder upper cavity oil back into the buffer tank, and then through the return pipe into the tank.
8. Electrical systems
The whole electrical system is divided into power part and control part.
9. Power segment
The three-phase four-wire AC 380 V power supply is composed of automatic air switch, circuit breaker, thermal relay, AC contactor and three-phase squirrel cage induction motor for driving oil pump. The motor is started Y-△ and safe and reliable.
10. Control component
Control part: full touch screen mobile combination control composition, the main console placed on the left side of the host.
Electric gas cabinet is made of cold rolled steel plate, electrostatic spray, its interior is equipped with PLC programmable controller and other control components. All kinds of control buttons and function switch on the panel, each motor start and stop button, each part monitor indicator lamp and counter, etc. Mobile console is mainly used for NC automatic operation, with emergency stop button and so on.
control device: using PLC programmable controller control;
operation mode: point movement, automatic operation mode;
working mode: common press and punching machine exchange.
Safety pressure:
the hydraulic system is equipped with a safety valve, automatically overflow when the oil pressure exceeds the set value, and send out an alarm signal.
| | | |
| --- | --- | --- |
| Mold height | 170-320 | mm |
| number of strokes | 20-50 | I/min |
| maximum pressure | 25 | Mpa |
| Speed down | 200 | m/s |
| working speed | 10 | m/s |
| opening speed | 160 | m/s |
| Table: Left and right | 820 | mm |
| around;about | 580 | mm |
| Drop hole | 180 | mm |
| Throat depth | 300 | mm |
| Platform height from ground | 660 | mm |
| power of motor | 11 | KV |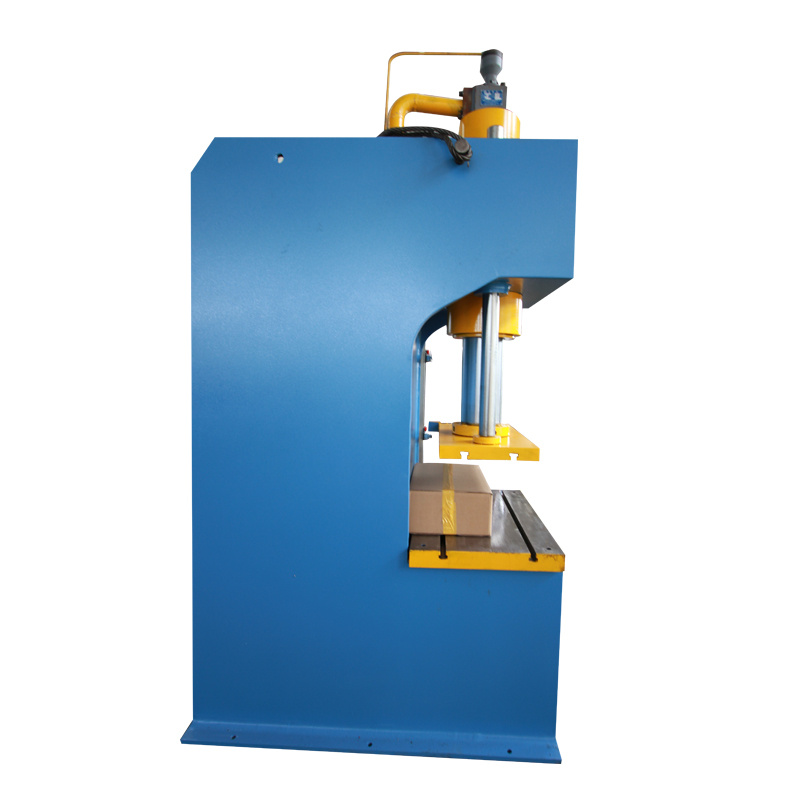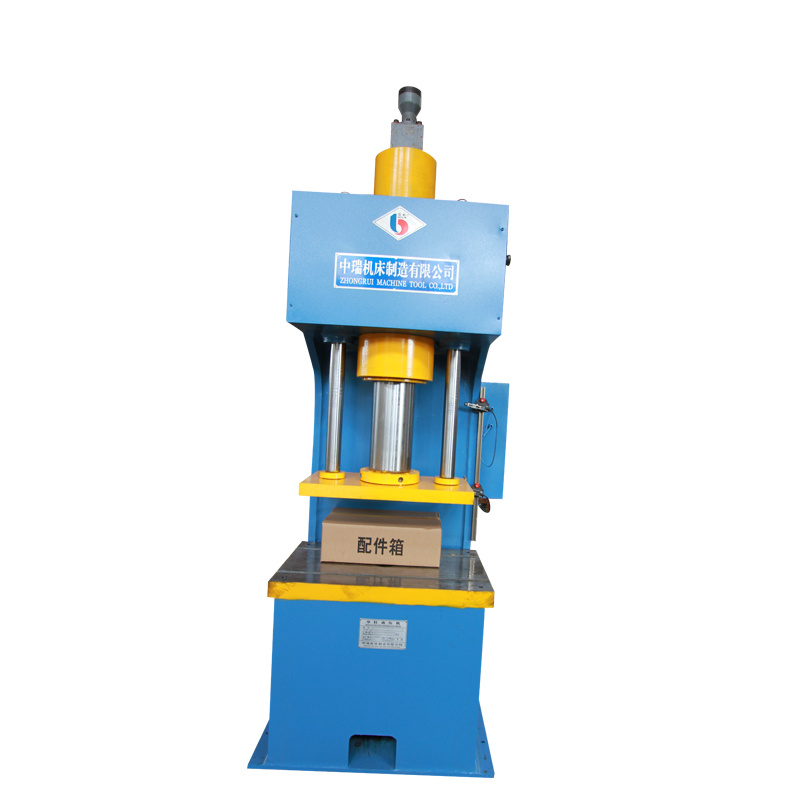 Packing&Shipping
We have cooperated with experienced shipping forwarders for many years, they arrange the shipment. No matter by express, by airor by sea, we will track the course of the goods all the way, to make sure goods arrive at you on time and in good condition.
FAQ
1. How about your machine quality? We are worry about the quality.
A: RAYMAX is a mature brand in CHINA, through our 20 years research in technology,our design including structure and detailed sercurity and precision has enhanced greatly, and can match all the CE standard or more strict standard. Our machines distribute worldwide to about 50 countries where there are metal plate industry, there are our machines, there are good reputation and terminal user satisfaction.
2. Whether the machine price can be more discount?
A: 1.RAYMAX always provide high quality machine,as we know ,oversea market is more important and difficult than domestic market because of communication time costing after sales,So always,our machine has enough qaulity standard to make sure the machine can work more than the real warranty period.In this way ,we will save a lot and think in advance for the clients.
A: 2. Actually Boduan also think about our price level,we are sure to provide quality=price and pice=quality ,the matched priceand acceptable for the clients and durable for our machines.We welcome your negotiate with us and get a good satisfaction.
3. How about your manufactory in CHINA?
A: We have worked about 15 years in this area and totally have about 300 staffs. Rich experience in this field with professional technical supporting and oriented service. We welcome your visit to us any time.
4. Where are you? Can I visit you?
A: Sure,welcome to you visit our factory at any time.
5. How about the delivery time?
A: Within 15-35 days after we confirm you requirement.
6. What kind of payment does your company support?
A: T/T, 100% L/C at sight, Cash, Western Union are all accepted if you have other payment,please contact me.
Details
Slide Stroke (mm): 150 mm
Machine Type: Hot Forging Hydraulic Press, hydraulic press machine
Return Force (kN): 1250 kN
System: Servo
Condition: New
Place of Origin: China
Year: 2019
Dimension(L*W*H): 170-320
Weight (T): 2 T
Motor Power (kw): 110 kw
Key Selling Points: High-accuracy
Warranty: 3 years
Applicable Industries: Machinery Repair Shops
Showroom Location: None
Marketing Type: Hot Product 2019
Machinery Test Report: Provided
Video outgoing-inspection: Provided
Warranty of core components: More than 5 years
Core Components: Bearing, PLC, Engine
style: Luxury
Product name: hydraulic press machine
Raw Material: Sheet
Application: Construction Projects
After-sales Service Provided: Online support
After Warranty Service: Video technical support, Online support, Spare parts
Local Service Location: None